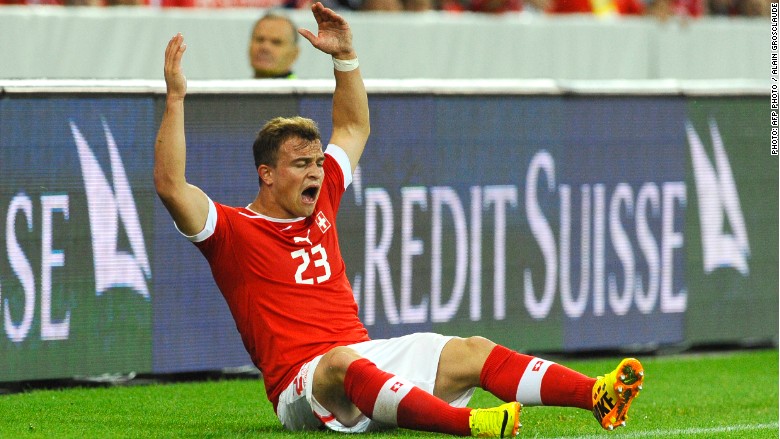 Credit Suisse has been dragged into the FIFA corruption scandal.
The Swiss bank said Friday it has been questioned by the U.S. and Swiss authorities in relation to alleged corruption and money laundering at the world's soccer organization.
Credit Suisse (CS) said it received inquiries about its banking relationships with FIFA officials.
"The U.S. and Swiss authorities are investigating whether multiple financial institutions, including Credit Suisse, permitted the processing of suspicious or otherwise improper transactions, or failed to observe anti-money laundering laws and regulations, with respect to the accounts of certain persons and entities associated with FIFA," the bank said in its third quarter financial report.
It said that the inquiries also concerned people who were among the group of FIFA officials indicted by the U.S. in May.
Credit Suisse said it was cooperating with the investigation. It is the first global bank to admit it was facing scrutiny over the FIFA scandal.
The U.S. Department of Justice said in the indictment that money involved in the scandal passed through various banks, including JP Morgan Chase (JPM), Bank of America (BAC), Citibank and HSBC (HBCYF).
Related: Whistle-blowers talk about money laundering at FIFA
FIFA is facing investigations on several fronts. The U.S. Justice Department launched a large-scale probe earlier this year, and charged several FIFA officials with bribery, fraud and money laundering.
The organization is also under a separate investigation by the Swiss attorney general, who is looking into how Russia and Qatar came to be awarded the World Cups in 2010.
The disciplinary arm of FIFA has already suspended three of its leading officials -- including President Sepp Blatter -- for 90 days.