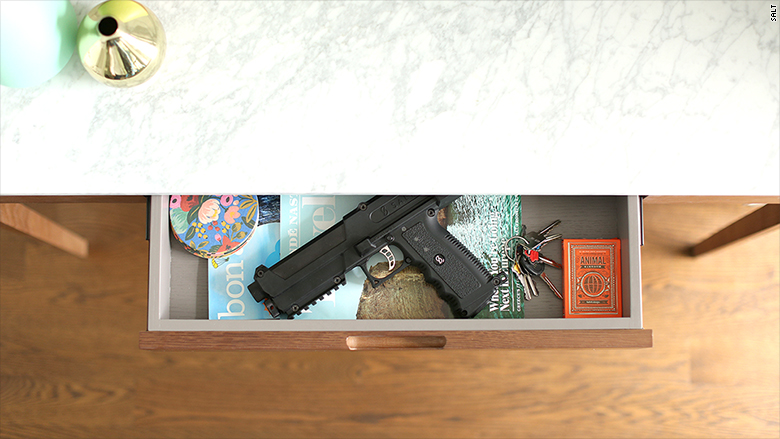 Indiegogo shut down crowdfunding for a non-lethal gun designed to shoot pepper gas balls, but that didn't disarm the company.
Salt Supply, the gun supplier, was hoping to raise $75,000 to cover the insurance costs of selling the pepper ball guns.
Despite Indiegogo's shutdown, Salt was immediately back in business, according to CEO Adam Kennedy, because he received what he called a "private donation" exceeding that amount,
"We put together a very rough web site within an hour," said Kennedy. "I'm very glad that we were able to bounce back. I had a busy day. I haven't slept yet since yesterday."
Kennedy said he had raised $30,000 by the time Indiegogo shut down the campaign. He said he received an email from Indiegogo six hours after they shut him down, saying that all the money was returned to the donors.
"The Salt campaign has been removed because it did not comply with Indiegogo's terms or use," said an Indiegogo spokesman in an email to CNNMoney. "Our terms prohibit the offering of any weapons, ammunition and related accessories as perks."
Kennedy said the relaunched Salt Supply site started taking orders for the gun Friday morning at $279 apiece. That price buys a pistol with 10 live rounds, 10 practice rounds and two CO2 cartridges to power the gun.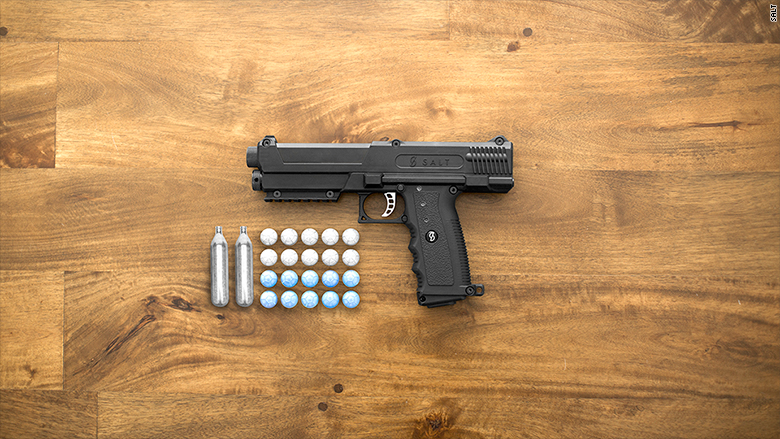 The gun works by firing pellets containing extract from ghost peppers that break on impact, spraying the target with a pepper solution that induces asthma breathing problems for the victim. Kennedy said the gun is intended for home defense without killing the intruder.
Related: Afraid of real guns? Try this pepper ball gun instead
"Yesterday was a hard day but the positive side of that was we got so much outpouring from people saying, 'Please don't let this stop you. I really want to purchase this thing,'" he said.
Kennedy said he's preparing to ship the guns as soon as possible and that his Indiana factory is capable of making 10,000 guns a month.
He said the pepper ball guns do not require background checks because they do not meet the federal government's definition of a real gun. His product is more like a paintball gun, he said.
The Bureau of Alcohol, Tobacco, Firearms and Explosives defines a gun as a device designed "to expel a projectile by the action of an explosive."