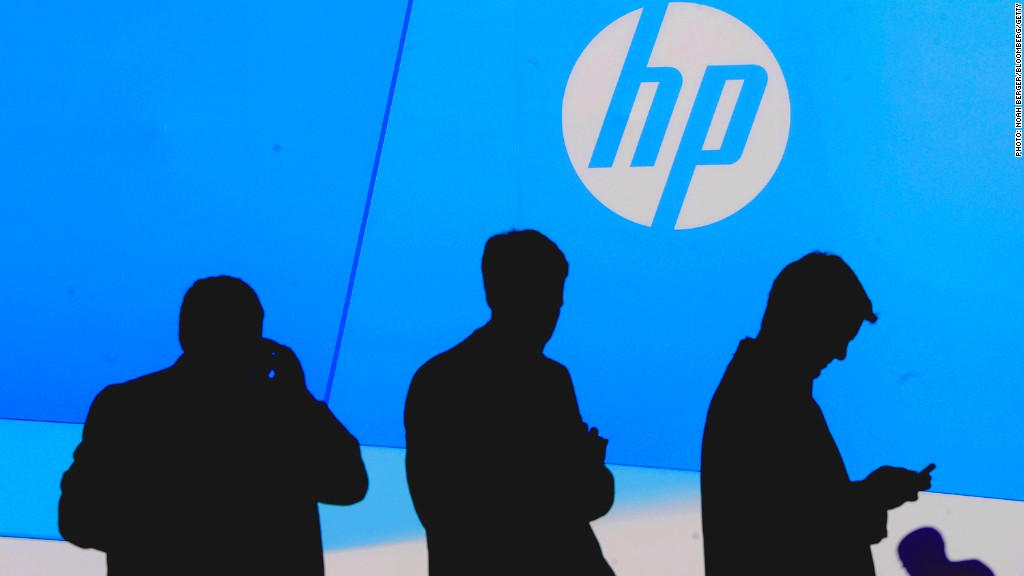 Meg Whitman knows firsthand what a tech bubble looks like.
As the CEO of eBay, she had a front-row seat to the dotcom craze of the late 1990s. That bubble burst, tanking the broader economy and the retirement accounts of millions of Americans in the process.
Now Whitman is CEO of aging tech giant Hewlett-Packard (HPQ), which Sunday began a big transformation as it breaks into two companies.
Whitman now sees many of the same signs of excess.
"I worry there are certain sectors here that are bordering on being too frothy," Whitman told CNN's Poppy Harlow.
She said many young companies that "haven't actually proven themselves" have been able to garner "extraordinary valuations."
Startups like Uber, Airbnb and Snapchat are raising gobs of money and garnering lofty valuations despite their newbie status. Incredibly, the world now has 141 "unicorns," the term coined for privately held startups worth north of $1 billion, according to research firm CB Insights.
"I just tend to be a little conservative about these things because I lived through that 1998, 1999, 2000, 2001 timeframe," said Whitman. She became CEO of eBay (EBAY) back in 1998 when the site had just a few dozen employees and less than $5 million in revenue.
One of the highest valued companies is Uber, which is trying to raise another $1 billion at an eye-popping valuation of $70 billion. That's more than the market caps of Ford (F), General Motors (GM) or Honda (HMC).
Airbnb is another highly valued company, now worth as much or more than top hotel companies Hilton Worldwide (HLT), Hyatt Hotels (H) and Marriott (MAR).
Related: Is Uber really worth $70 billion?
Tech veterans remain split over the existence of a startup bubble. While Mark Cuban and others increasingly sound worried, others like Salesforce (CRM) boss Marc Benioff and LinkedIn (LNKD) cofounder Reid Hoffman aren't sweating it.
Related: Who gets hurt when the startup bubble bursts?
After 75 years, HP is splitting up
HP of course won't ever be confused for a unicorn. The 75-year-old company makes tons of money, but has struggled mightily to adjust to the shift away from PCs towards smaller devices. HP sales have declined 15 out of the past 16 quarters and Whitman has announced 85,000 job cuts since she was hired in 2011.
That's why HP is now breaking up.
Whitman is now the CEO of HP Enterprise, which sells corporate hardware and services like cloud computing, big data and cybersecurity. It starts trading Monday on the New York Stock Exchange under the ticker symbol "HPE."
Related: HP leads list of America's biggest job killers
The remaining company, HP Inc., will continue to focus on devices like PCs and printers, considered slower growing areas. HP Inc., which will also invest in exciting products like 3-D printing, has Whitman as its chairman and is keeping the "HPQ" ticker symbol.
"By splitting these companies, we're going to be able to be more nimble, faster and have more innovation," Whitman said.
It's the exact opposite strategy of Dell, which made a huge splash by recently acquiring storage giant EMC for $67 billion. Whitman has trashed the deal, arguing the incredible amount of debt needed to pull off what amounts to the biggest tech deal ever will stifle innovation.
Related: Big Tech gets its sexy back
Chanos: HP is doomed
But there's no guarantee the HP breakup will work either.
"The split epitomizes everything that's wrong with Hewlett-Packard," billionaire investor Jim Chanos recently told CNN.
Chanos, famous for predicting Enron's demise, said that any tech company that is losing revenue like HP to the tune of 5% to 10% a year "ultimately is doomed."
"In Silicon Valley, if you're not growing, you're dying," Chanos said.
Whitman is unfazed by such criticism and believes HP has already "reignited the innovation engine."
"Our objective is to prove the naysayers wrong and deliver for customers," she said.