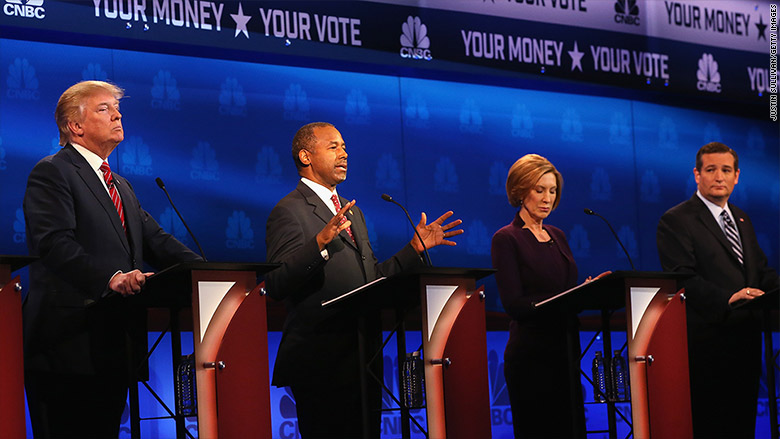 The Republican National Committee has appointed a new official to serve as the lead debate negotiator between campaigns and media networks, seeking to curb candidates' anger over the handling of the debate process.
Sean Cairncross, the RNC's chief operating officer and former chief counsel, will take the reins from committee spokesman Sean Spicer, who had served as the chief negotiator.
RNC Chief of Staff Katie Walsh announced the change in a letter to the candidates' campaigns on Sunday evening, minutes before campaign representatives convened for a meeting outside of Washington, D.C., to discuss potential changes to the debate process. The RNC was explicitly not invited to that meeting, given the campaigns' desire to take greater control of the debate process.
Related: Fox's debate ad says 'CNBC never asked the real questions'
"I know many of you have expressed some concern regarding how some of the details in the debate process have been handled to this point," Walsh wrote. "While we believe most of the debate details have been handled well, I want you to know that at the RNC we have heard your concerns and take them very seriously. To that end we are making some changes to how we at the RNC will be handling the debate process going forward."
The RNC's decision to appoint a new debate negotiator is a move to appease the campaigns, which believe the RNC has failed to adequately represent its interests in negotiations with the debate's media sponsors.
The candidates organized the Sunday evening meeting following the widely panned debate last week that was hosted by CNBC. Late last week, the RNC suspended its plans to hold a scheduled debate under the auspices on NBC.
Related: GOP tells NBC next debate suspended over 'gotcha' questions
In lieu of RNC representation at the Sunday meeting, the campaigns had invited Ben Ginsberg, a Republican lawyer and debate negotiator, to serve as an impartial facilitator of the meeting. By bringing on Cairncross, the RNC is hoping to prevent a standoff with Ginsberg.
The campaigns, which met Sunday night outside Washington, D.C., are united in their desire for more substantive and focused debates, but have yet to agree on specific goals.
Barry Bennett, the Ben Carson campaign manager who organized the meeting, has told other campaigns that they want all candidates to appear on the same stage for two-hour debates where each candidate is given five minutes for opening and closing statements.
Related: GOP debate meeting: What the campaigns want
But sources with rival campaigns told CNN that Bennett was likely setting the bar impossibly high in order to achieve the best possible result. With 14 candidates in the running, such criteria would mean that more than half the debate would be given over to individual statements, while candidates would be left with just three to four minutes each to participate in a 50-minute debate. And that would be only if the media partners agreed to forego commercial breaks.