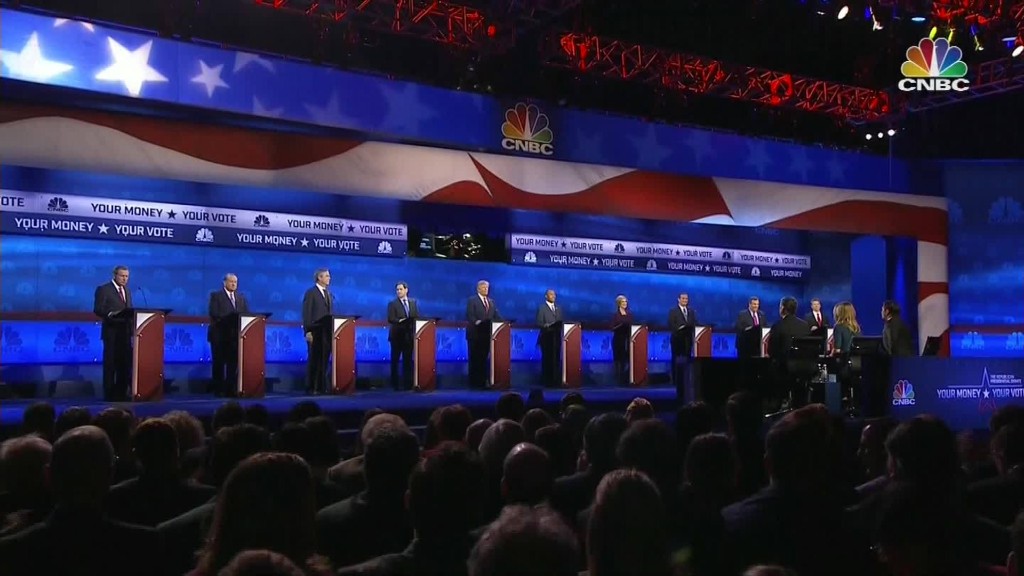 The Republican effort to stage a united front on debate reforms began to crumble Monday night as several campaigns announced that they would not sign a letter of demands to debate media sponsors.
Late Monday afternoon, less than 24 hours after campaigns gathered outside Washington to discuss the reforms, Donald Trump's campaign announced that the GOP frontrunner would negotiate independently with the media organizations, spurning the other campaigns who had hoped to make a unified effort.
John Kasich's campaign said it too was "declining to sign the letter." Speaking to reporters, the Ohio governor said he hadn't given any thought to the effort to overhaul the debates. "Whatever we're doing, that's what we'll do. Play it where it lies," he said.
Minutes later, in an email to CNN, the Chris Christie campaign said it would not be signing the letter either, a move that had been anticipated by the New Jersey governor's own remarks in an interview with Fox News Monday morning: "Stop complaining," Christie had said of his rivals. "Do me a favor, set up a stage, put podiums up there and let's just go."
Related: What's really behind the debate over the debates?
And a spokesperson for Carly Fiorina's campaign sent an email to Ben Ginsberg, the Republican lawyer and author of the letter, announcing that it too would not be signing.
"These debates are an important chance for voters to see conservative candidates under pressure and over time," a Fiorina spokesperson wrote. "We have consistently and successfully discussed our concerns with the networks and the voters -- and not behind closed doors like the political class seems to like to do."
As of Monday evening, representatives for several campaigns were either uncertain of their own plans to sign the letter or said they considered the subject moot.
"This makes last night's meeting a total waste of time," a senior staffer with one of the campaigns told CNN after Trump, Kasich and Christie pulled out. "It only works if everybody signs it."
The letter to the media organizations, which was drafted in the wake of Sunday's emergency summit, included a list of questions the campaigns hoped to use to ensure more fair and substantive debates. But above all else, it signaled a move by the campaigns to wrest control of the debate negotiations from the Republican National Committee, which has taken blame for last week's messy CNBC debate.
Related: GOP letter to vet debate sponsors
Barry Bennett, the Ben Carson campaign manager who convened Sunday's meeting, did not immediately respond to a request for comment regarding the Trump, Kasich, Christie and Fiorina campaigns' decisions to decline signing the letter.
But Bennett later dismissed the defections in an interview with CNN's Erin Burnett on Monday night: "Some of those candidates, in the latest polls, wouldn't even make the stage," he said. "There are all kinds of egos in politics."
Candidates are now divided among three possible positions, and it was unclear Monday night which of them intended to sign the letter, which intended to deal directly with debate sponsors themselves, and which campaigns were in favor of leaving the debate negotiations in the hands of the RNC.
But one campaign left no doubt about its intentions.
"As we have for the previous three debates, the Trump campaign will continue to negotiate directly with the host network to establish debate criteria that will determine Mr. Trump's participation," a spokesperson for Trump said in a statement. "This is no different than the process that occurred prior to the FOX, CNN, and CNBC debates."
Sign up for the Reliable Sources newsletter — delivering the most important stories in the media world to your inbox every day