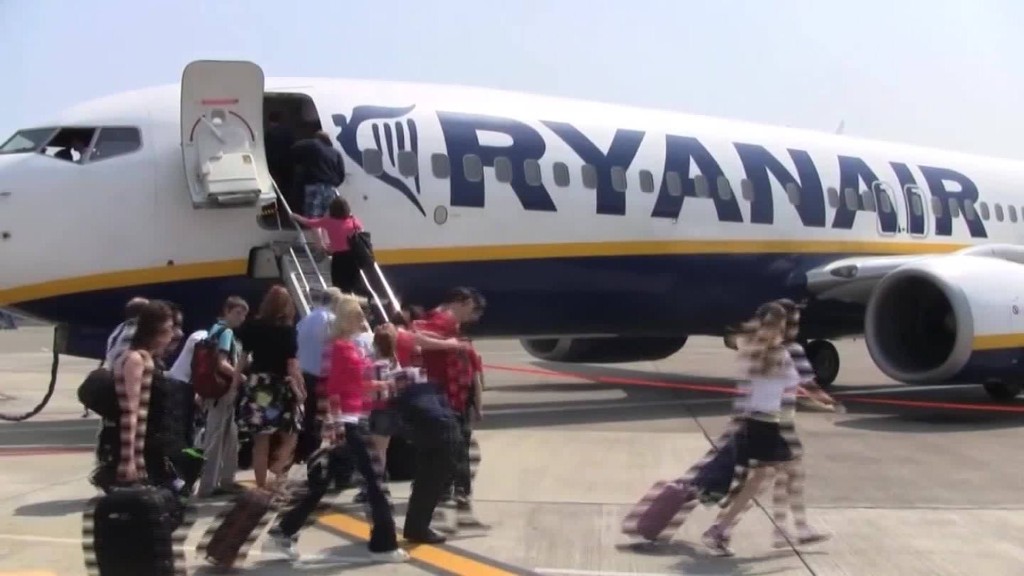 Here is an interesting business idea: Stop being jerks to your customers, and you just might make a lot more money.
Irish low-cost airline Ryanair (RYAAY) did exactly that, and its growth is through the roof -- profits rose 37% to 1.1 billion euros ($1.2 billion) in the six months to the end of September. The number of passengers rose 13%.
The budget airline used to be known for its no-frills approach, hefty fees, and -- as the airline's CEO Michael O'Leary once put it -- "irritating and confrontational" style.
There were stories of passengers who were charged fees of 60 euros ($66) for forgetting to print out their boarding passes, or who wore four sweaters to avoid expensive baggage charges.
But in 2013, Ryanair decided to become kinder toward its customers. "I think we became overly focused, almost obsessed, on having the lowest cost, sometimes at the expense of the customer experience," O'Leary said.
Related: Airlines saved $3.4 billion. You saved 66 cents
The airline scrapped its most unpopular fees, launched a new website and mobile app, and started allowing passengers to take a second bag on board. All that while keeping airfares low compared to traditional airlines.
The new strategy is working. Ryanair has raised its long term traffic target from 160 million passengers a year to 180 million by 2024.
O'Leary said the airline has had a "bumper summer," with the number of passengers growing 13% to 58 million year on year.
He attributed the boom to the combination of strong pound, low fuel prices and bad weather in northern Europe, which led to more people flying out to Ryanair's holiday destinations.