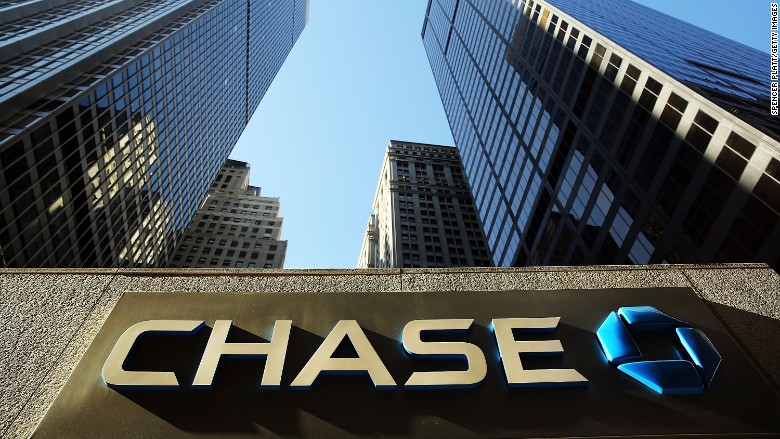 No one wants a repeat of the 2008 financial crisis.
To prevent that, watchdogs around the world are keeping an eye on big banks that are "too big to fail."
The G20 just put out its latest ranking of banks that could cause a lot of damage.
At the top of the list are two firms: JPMorgan Chase (JPM) and HSBC (HSBC).
The G20 calls JPMorgan and HSBC the most "systemically important banks" in the world. That's another way of saying "too big to fail."
It means they are not only big, but they do a lot of business around the globe.
If they get into trouble, these are the banks that could cause havoc for many nations because they are connected to so many other banks and investors.
Related: China now runs 4 of the world's 5 biggest banks
Big banks are hot 2016 campaign issue
In the U.S., big banks have become a hot issue on the 2016 presidential campaign trail.
Democrats Bernie Sanders and Martin O'Malley believe large banks should be broken up so they are easier to regulate and wouldn't need bailouts again.
Others like Hillary Clinton and many of the Republicans say simply breaking up banks is a naive approach. New laws since the crisis have made banks change their ways, they argue, and other financial institutions like hedge funds could end up causing the next crisis.
JPMorgan is America's biggest bank by assets.
Related: Wall Street isn't worried about Hillary Clinton's plan
30 banks made the G20's list
Banks around the world have grown even bigger since the 2008 financial crisis. But they have also become less risky in many ways.
Banks now hold a lot more capital (basically cash or cash-like assets) on hand, which acts as a safeguard during times of duress.
In total, there are 30 banks on the G20's list. They are broken up into five buckets.
There are no banks in the level 5 warning zone. JPMorgan and HSBC are in the level 4 category -- the yellow flag. The rest of the banks are in the lower levels.
All the banks on the list are supposed to hold additional assets to help offset any potential losses along the lines of what happened to Lehman Brothers when it couldn't pay up and had to file for bankruptcy in 2008.
The full list is below.
Level 5: Empty
Level 4: HSBC, JPMorgan Chase
Level 3: Barclays, BNP Paribas, Citigroup (C), Deutsche Bank (DB)
Level 2: Bank of America (BAC), Credit Suisse, Goldman Sachs (GS), Mitsubhishi UFJ FG, Morgan Stanley (MS)
Level 1: Agricultural Bank of China, Bank of China, Bank of New York Mellon, China Construction Bank, Groupe BPCE, Groupe Credit Agricole, Industrial and Commerical Bank of China Limited, ING Bank, Mizuho GF, Nordea, Royal Bank of Scotland, Santander, Societe Generale, Standard Chartered, State Street (STT), Sumitomo Mitsui FG, UBS, Unicredit Group, Wells Fargo (WFC)