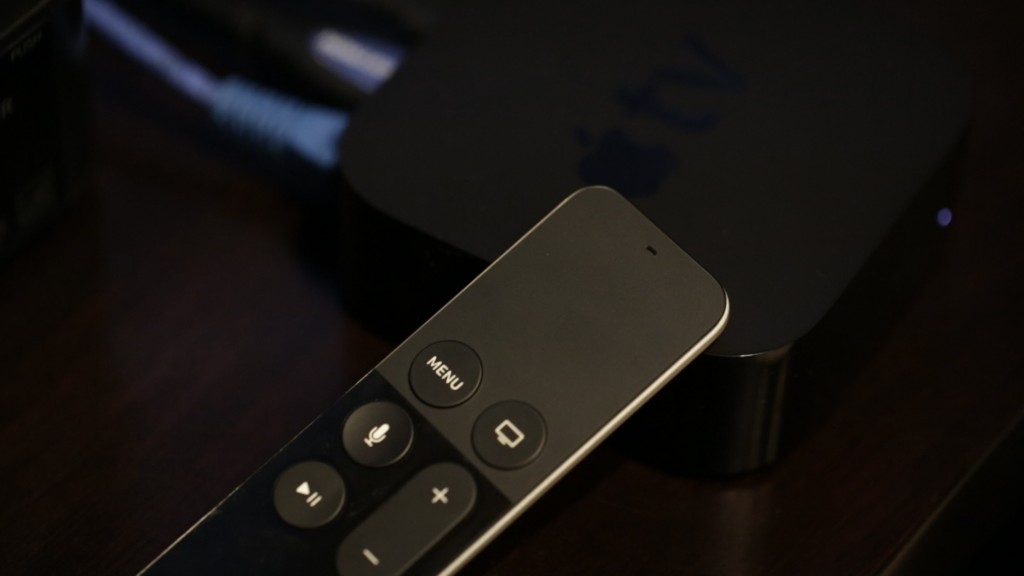 No matter how many times I ask Apple TV's Siri for shows starring "Bea Arthur," it only hears "be Arthur."
Siri is one of the new Apple TV's most important features. It can stumble over proper names ("Keanu" took multiple tries but it nailed "Fassbender"), and Apple has saddled it with some key limitations. But ultimately, Siri is a neat way to surf TV.
In addition to the Siri upgrade, the new gadget includes a fancy touchpad remote control, beautiful interface and an all new app store. Apple (AAPL) calls it the "future" of television.
The product upgrade, the first in three years, is a huge leap forward for Apple. And after spending a few days watching TV (for journalism), I think it's very much the TV of our time.
Television is still broken
Setting up a new streaming TV device is a reminder of how frustrating, and pricy, modern TV can be.
The Apple TV's set-up is fast. You hold your phone near the box and it imports your Apple ID and WiFi login. But then you need to download and sign into all your streaming services.
Like all on-screen keyboards controlled with remotes, the on-screen keyboard on the Apple TV is terrible. If going letter to letter like on a Ouija board to spell out your email address and password is the future, I will take a book, thank you.
The Apple TV starts at $149. If you're new to streaming TV, you have to sign up for subscription services like Netflix (NFLX) and Hulu. You're still expected to pay for cable to access content from certain channels. Even with all that, some content will still need to be paid for à la carte, including most iTunes offerings.
These costs aren't unique to the Apple TV. They also happen with the Roku, Amazon (AMZN) Fire TV, and Google's (GOOG) Chromecast.
Apple has made some smart decisions to ease the pain of fragmentation. It has integrated five major services into the heart of the device: iTunes, Netflix, Hulu, HBO and Showtime. (Sadly, there is no Amazon app anywhere.)
Siri-light
Siri on the Apple TV is more like iOS Siri's younger, shy sibling. It does not say a peep out loud, only displaying replies on-screen. Its primary purpose is searching for content across the core apps.
There are many reasons why this feature is awesome.
You can hold down the dedicated Siri button on the remote and search for movies or TV shows by their title, actors, genre or date. Try "Movies starring Viola Davis" or "1970s TV comedies." (The Amazon Fire TV remote also has voice search.)
Siri fast forwards and rewinds. If you miss some dialog, say "What did she just say?" and it will rewind and replay the last bit with closed captioning.
It will also show sports scores, the weather and stock prices, but that's pretty much where the fun stops. Siri can't search the app store or the web, or do many of the usual tasks you're used to from Siri on iOS.
The biggest oversight is that Siri on the Apple TV doesn't work with Apple Music. On mobile devices, Siri is one of the best ways to cut through the cluttered Apple Music menus.
Six buttons and a touchpad
Half of the new Apple TV remote is a touch surface. Instead of using the traditional arrow buttons to move around the screen, you swipe around on the top half of the remote.
It's fun to use, but doesn't really add much to the television watching experience. Sometimes the touch surface actually makes selecting things more difficult than it would be with regular buttons.
Where the remote will really shine is with the coming wave of third-party apps. Inside the remote are an accelerometer and gyroscope. It can become a game controller, karaoke microphone or a workout buddy. (An optional remote app for the iPhone would be a great addition, and kill the on-screen keyboard.)
Apps are going to be huge
The most exciting, futuristic thing about the Apple TV is its app store. Not because it's a new idea (other streaming products also have apps), but because of Apple's huge following among top developers.
The selection is still a bit thin and many offerings look like hasty conversions of iPhone apps. Some notable early examples are the Zillow real estate app, the Zova workout app and Coursera online classes. More are certain to follow, and they'll likely change how we use our TVs.
Apple TV imagines taking the iPhone experience, a rich collection of apps for every possible task, and replicating it on the television screen. In many ways, the future of TV is not that different from mounting a really big iPad on your wall.