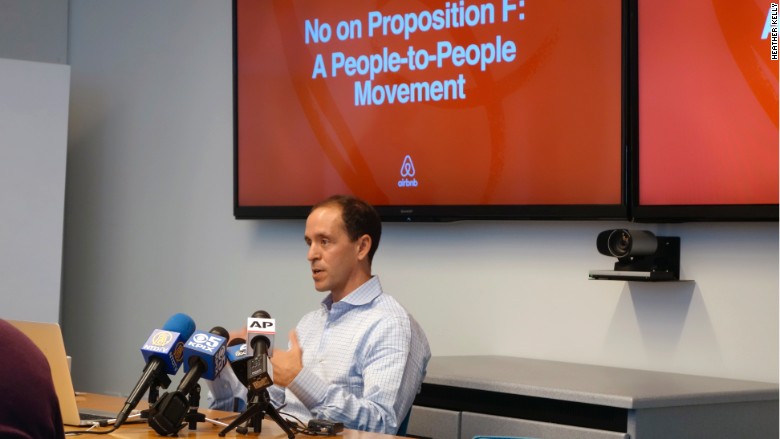 Airbnb wants people to forget for a moment that it is a huge, for-profit global business worth an estimated $25 billion.
At a press event Wednesday, the company framed itself as more of a scrappy community organization, taking on Big Hotel to fight for the rights of the struggling middle class.
The morning after San Francisco residents voted against Proposition F, which would have cracked down on short-term rentals, Airbnb gathered reporters at its local headquarters for a victory lap.
Chris Lehane, Airbnb's new head of global policy, recapped in detail how the company organized its campaign and won.
Airbnb poured $8.5 million into the No on F campaign, according to Lehane. Of that, $5.6 million was spent on organizing and communicating directly with Airbnb hosts and guests. The campaign had 1,000 volunteers plus undisclosed amount of paid staff. They knocked on 285,000 doors, and took part in 105,000 conversations with voters.
Its "No on F" campaign was so successful that Airbnb has decided to neatly package the strategy and export it to other cities.
"[It] is not unique or specific to San Francisco," said Lehane. "It really is reflective of a larger global movement."
Related: Airbnb valued at more than $25 billion
Over the next year, Airbnb wants to built 100 community guilds in cities around the world. These "grassroots" organizations would receive tools, training, support and an undisclosed amount of money from Airbnb to help fight unwanted local regulations.
Proposition F wanted to cap short-term rentals at 75 days a year and require renters to submit quarterly reports on occupancy. Supporters claimed short-term rentals take much needed homes off the market. San Francisco is in the midst of a housing shortage exacerbated by an influx of well-paid tech workers.
But Lehane, who described short-term rentals as an "economic lifeline for the middle class," said Prop F backers weren't really motivated by housing issues.
"I think it's pretty clear who the opposition is here, and it's the hotel industry," said Lehane.
The pro-Proposition F side raised less than a million dollars. Of that, $25,000 came from the Hotel Association of New York, and $49,000 from the American Hotel & Lodging Association.
"We got $300,000 from dues-paying hotel workers -- housekeepers, doormen, cooks, waiters, etc. -- people who are fighting for their jobs and their ability to keep living in San Francisco," said Dale Carlson, organizer of the Yes on F campaign.
Airbnb host and San Francisco homeowner Cathryn Blum volunteered for Airbnb. She's been active on a Facebook (FB) group for local hosts, talked to press and went to every possible meeting to promote Airbnb. She did not want to disclose how much she makes renting out part of her home, but says it's more than she earned at her traditional job.
"I've not been a politically involved person until now, but it's drawn me in quite substantially because I am one of the people who depends on the income," said Blum.
Turning customers like Blum into activists is a key part of Airbnb's political strategy.
There are 138,000 Airbnb hosts and guests in San Francisco. Only 133,000 people total voted in Tuesday's local election, though 45% of them voted against the Airbnb measure.
In the United States alone, there are 4 million Airbnb hosts and renters. Lehane compared that number to other powerful U.S. constituencies, like the NRA (5.1 million) and the Sierra Club (2.4 million).
A former political strategist to Bill Clinton, Lehane said those Airbnb users are likely to vote, and unlikely to support candidates who oppose home sharing. It came off as a warning to other cities and politicians that might want to impose regulations on Airbnb-type rentals.
"We are a company that is comprised of our hosts and our guests, we are virtually one and the same," said Lehane.