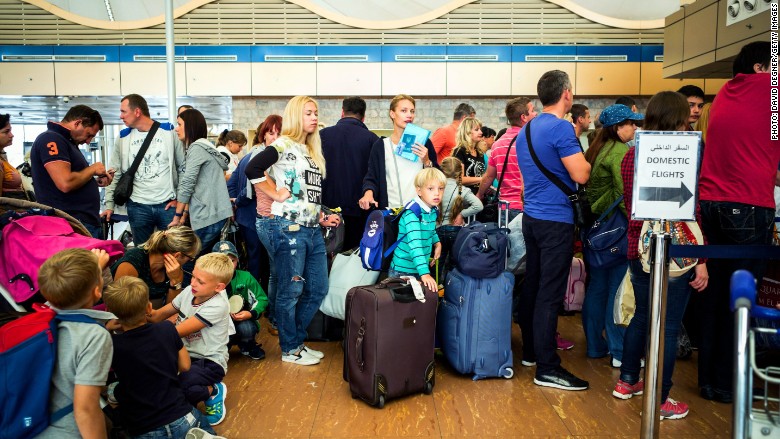 European tour operators are being hit hard after concerns about terrorism caused the U.K. to temporarily halt flights to and from the Egyptian resort of Sharm el-Sheikh.
British Prime Minister David Cameron said Thursday the crash of Russian Metrojet Flight 9268 was "more likely than not" caused by a bomb. U.S. officials have suggested that terror group ISIS or its affiliates were to blame.
U.K. transport secretary Patrick McLoughlin said he hoped flights could resume on Friday after reviewing security standards at the Sharm el-Sheikh airport.
Travel cancellations
German and U.K. airlines and tour operators have canceled many flights. Investors had mixed reactions to the news.
Travel group Thomas Cook canceled all its flights and holiday programs for at least a week. Shares in the company immediately took a dive, down about 8% in London.
The company has operations in 56 hotels and resorts in Sharm el-Sheikh. The cancellations will affect around 23 flights.
The company said it will bring back its 1,700 customers "in due course," and pay for hotel costs for those stranded.
German airline Lufthansa canceled flights to and from Sharm el-Sheikh until further notice. Shares in the company took a small hit after the announcement. The company operates two weekly flights through its subsidiaries, Edelweiss Airlines and Eurowings.
Shares in German travel operator TUI dipped about 2% in European trading after its subsidiary Thomson Airways canceled all Sharm el-Sheikh flights until at least Nov. 12.
The tour operator said it didn't have many customers in Sharm el-Sheikh, but people booked to travel in this period would be provided with a refund.
Thomson operates in at least two dozen hotels in the area.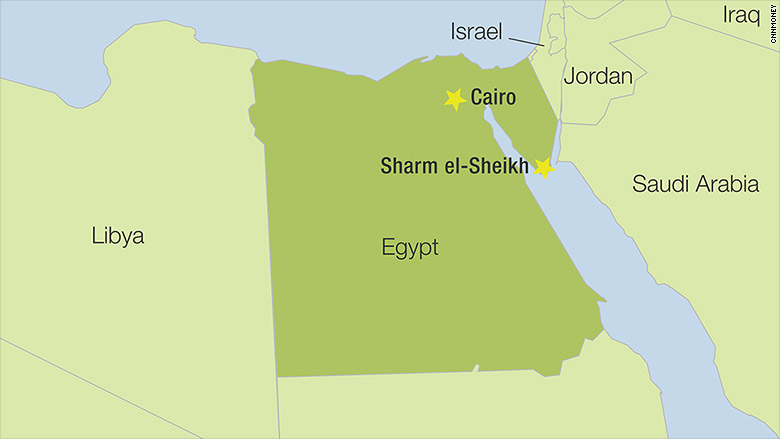 Optimistic airlines
Other airlines have taken a less dramatic approach to the U.K. government guidance.
Easyjet canceled its flights through Friday only. Shares in the budget airline jumped about 3% on Thursday.
Easyjet said it was continually reviewing the situation but any customers booked to fly in the next two weeks would be able to request a refund or rebook for different dates or locations free of charge.
Shares in IAG, the parent company of British Airways, rose about 1% after the airline canceled its flights on Thursday but said they would resume on Friday.
"Customers not wishing to travel on the postponed flights on Friday will be able to claim a full refund, or switch to an alternate destination," the company said in a statement.
At least 9,000 British tourists are currently on holiday in Sharm el-Sheikh.
It seems other European operators are still flying to the resort though many are avoiding the same flight path that the Metrojet plane was taking last week when it crashed.