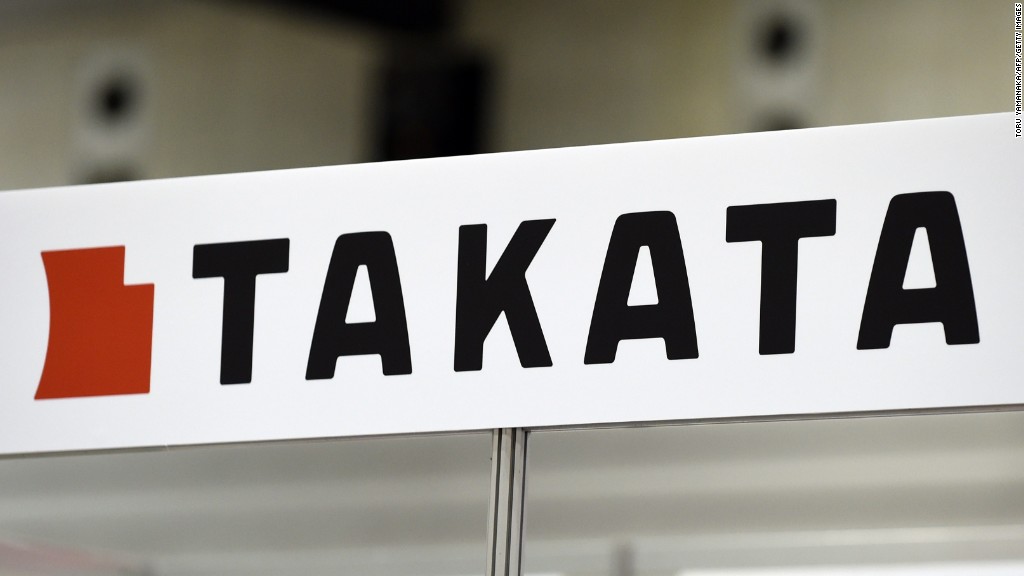 Shares in Takata plunged for a second day running as more automakers confirmed they were ditching its airbags.
Takata (TKTDY) closed 25% lower in Tokyo on Thursday, after falling 13% Wednesday. The stock has shed 40% since the start of the year.
The list of customers ditching Takata is growing. Mitsubishi Motor Corp (MSBHY) said it had started switching to another airbag maker, while Mazda Motor (MZDAF) confirmed it has not been using Takata products since late last year.
Honda (HMC), one of Takata's biggest customers, announced it was dumping Takata on Wednesday.
Honda also alleged Takata misrepresented and manipulated test data. It has asked the firm to hire a third party to conduct an audit of test details given to Honda.
"Honda expects its suppliers to act with integrity at all times and we are deeply troubled by this apparent behavior by one of our suppliers," the carmaker said.
The Japanese auto parts maker is struggling with the catastrophic fallout over its defective airbags, which can explode when activated, firing out shards of metal. They have already been linked to eight fatalities -- one in Malaysia, and seven in the U.S.
On Wednesday, U.S. regulators slapped Takata with a massive $70 million fine for selling its botched inflators. Takata could be hit with an additional $130 million fine if it fails to adhere to safety measures going forward.
Related: Takata hit with massive fine over deadly airbags
The order by the National Highway Traffic Safety Administration requires Takata to phase out components similar to those known to have caused the malfunctions, and the company agreed not to take on new orders.
"For years, Takata has built and sold defective products, refused to acknowledge the defect, and failed to provide full information to NHTSA, its customers, or the public," said Transportation Secretary Anthony Foxx.
Related recalls have affected at least 19 million cars in the U.S. and a dozen of some of the world's most recognizable automakers, including Ford (F), Nissan (NSANF) and Toyota (TM).
As of last month, fewer than 23% of recalled vehicles had been remedied, and some of those will require an additional fix. The recall has been plagued by a shortage of replacement parts.
Related: 1.4 million popular Honda face second recall over airbags
Takata could face additional fines from a U.S. Justice Department investigation, and has been involved in multiple private legal actions. The company has already settled several lawsuits with victims.