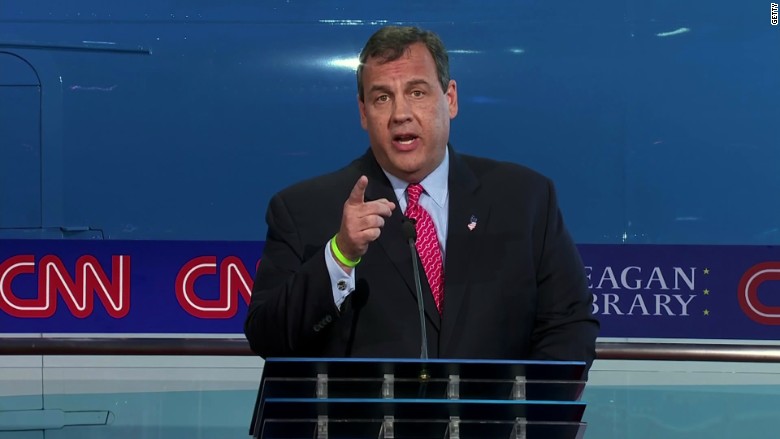 New Jersey Governor Chris Christie and former Arkansas Governor Mike Huckabee have failed to qualify for the prime time Republican debate on November 10, making them the first top-tier candidates to be relegated to the undercard round, Fox Business Network announced Thursday.
Meanwhile, former New York Governor George Pataki and South Carolina Senator Lindsey Graham failed to qualify for the undercard debate, meaning they will not appear at all when Republicans gather in Milwaukee, Wisconsin, next week.
The relegations could further winnow a Republican field that remains crowded with 15 candidates, the vast majority of whom are polling in the single digits. While Christie and Huckabee will still have an (albeit diminished) audience at 7 p.m., Graham and Pataki now find themselves barred from the platform they had come to rely on for media attention.
Fox Business, the sponsors of the fourth GOP debate, had stipulated last month that candidates would need to average at least 2.5% in the four most recent national polls in order to qualify for the prime time debate at 9 p.m. ET. Candidates needed to garner at least 1% in one of those polls to participate in the undercard debate at 7 p.m. ET.
Related: Fox Business expands answer times for GOP debate
Both Christie and Huckabee averaged just 2.25% in the four most recent polls -- from Fox News, Quinnipiac, NBC/Wall Street Journal and Investors Business Daily. Neither Graham nor Pataki received 1 percent in any of those four polls.
Christie was defiant in the face of the news: "It doesn't matter the stage, give me a podium and I'll be there to talk about real issues like this," he tweeted Thursday night, linking to a video in which he discussed drug addiction.
Related: GOP candidates plot debate revolt against RNC
Both Graham and Pataki made no secret of their frustrations with Fox's decision.
"Regardless of this decision tonight, Senator Graham continues to be the foremost expert on foreign policy and national security in this field of candidates, on either stage," Christian Ferry, his campaign manager, said in a statement. "In the end, the biggest loser tonight is the American people and the Republican Presidential primary process that has been hijacked by news outlets."
In his own statement, Pataki said he was "very disappointed tonight that early national polls are shaping the election choices for the American people. This new trend is a danger to our primary system, a disservice to voters everywhere, especially those in Iowa, New Hampshire and South Carolina and a clear boost for the worship of celebrity over accomplishment and ideas."
With Pataki and Graham off the stage, Christie and Huckabee will appear in a four-way debate alongside former Pennsylvania senator Rick Santorum and Louisiana Governor Bobby Jindal.
The candidates at the November 10 debate will appear on stage in accordance with their standing in the polls. Donald Trump, the frontrunner, will appear at center stage, flanked by Dr. Ben Carson, the runner-up, and Florida Senator Marco Rubio, in third.
From there, the ranking of the candidates is as follows: 4. Texas Senator Ted Cruz. 5. former Florida governor Jeb Bush. 6. Carly Fiorina. 7. Ohio Governor John Kasich. 8. Kentucky Senator Rand Paul.
Correction: An earlier version of this article incorrectly reported that Mike Huckabee would be on the main stage and Lindsey Graham would be on the undercard.
Sign up for the Reliable Sources newsletter — delivering the most important stories in the media world to your inbox every day.