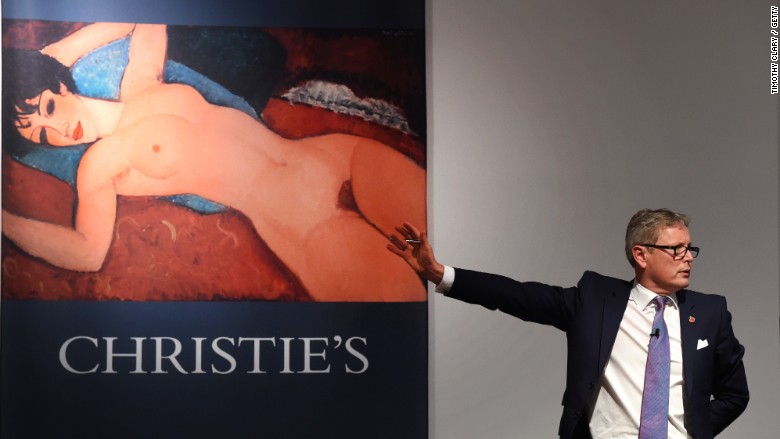 Forget about investing in stocks or bonds. The world's wealthiest are stashing their cash in art.
On Monday, a museum owned by Chinese billionaire Liu Yiqian bought an iconic painting by artist Amedeo Modigliani for $170.4 million, according to Christie's, the auction company that oversaw the sale.
It's just the latest in a slew of big art purchases by international buyers. In September, Christie's main competitor, Sotheby's (BID), announced its plans to sell $500 million in art from the collection of its former chairman, Alfred Taubman, who passed away earlier this year.
In New York City alone, there's over $2 billion worth of art for sale in November.
Although it's unclear what the motives for buying the art are, the astronomical art sales are a sign that the high-end art world is immune to the swings of the global economy, experts say.
"No matter what's happening in the economy you're always going to have art sales," says Lamar Villere, portfolio manager at Villere & Co., a New Orleans-based investment firm that owns Sotheby's (BID) stock.
After a brief dip during the Great Recession, art sales in recent years have "roared back," says Joshua Roth, head of fine arts at United Talent Agency in Los Angeles.
Some believe high end art is a great way for the super-rich to park their dollars at a time when the global economy's direction is uncertain.
"They're not true art collectors," says Joel Mesler, owner of Mesler Feuer, an art gallery in New York. "I wouldn't even call them collectors, I would call them investors."
Related: China has more billionaires than the U.S.
Others argue that these billionaires have plenty of other places to park their money, like real estate. They're buying art for the love of it.
The Modigliani appears to be going towards Yiqian's museum's collection, says Roth.
"These people actually do love art," says Roth. "The opportunity to own certain (big name art work) only come along every so often."