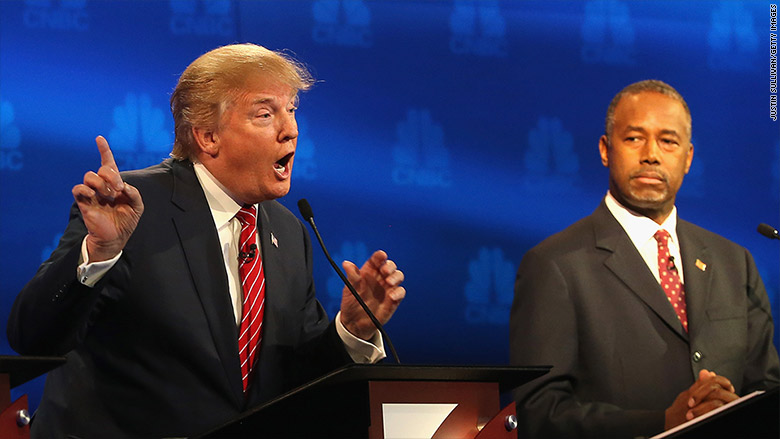 Fox News is finalizing plans to hold its next Republican primary debate on January 28, just four days before the Iowa caucuses, CNN has learned.
While the date and location are not yet set in stone, network executives and Republican party officials have centered on that final Thursday in January as the preferred date for the sixth debate of the GOP primary, four sources with knowledge of the network's plans said.
A Fox News spokesperson did not respond to a request for comment.
Coming just 96 hours ahead of the first-in-the-nation caucuses on February 1, the second Fox News showdown could have a significant impact on voter sentiment in Iowa -- especially given the unprecedented attention that has surrounded the debates this cycle.
The first Fox News debate had an especially notable effect in the Hawkeye State. Long-time frontrunner Scott Walker saw his support tank by 8 points immediately after that contest -- precipitating a decline that resulted in his withdrawal from the race. And Ben Carson, who is now neck-and-neck with Donald Trump, surged from fourth to second in the state's polls.
Related: Maria Bartiromo hopes GOP debate 'lets world know what Fox Business News is'
The January debate will also mark the return of moderators Bret Baier, Megyn Kelly and Chris Wallace, who hosted the inaugural GOP debate in Cleveland. Kelly and Trump sparred throughout that debate over Trump's condescending remarks about women, among other things. Trump tweeted angrily about Kelly for weeks after the debate.
Republicans will also meet on the debate stage on Tuesday night in Milwaukee for the Fox Business debate, and again on December 15 in Las Vegas for the CNN debate. The Republican National Committee's primary debate calendar also includes a "conservative media debate," which is tentatively scheduled to take place in early January.
Sign up for the Reliable Sources newsletter — delivering the most important stories in the media world to your inbox every day.