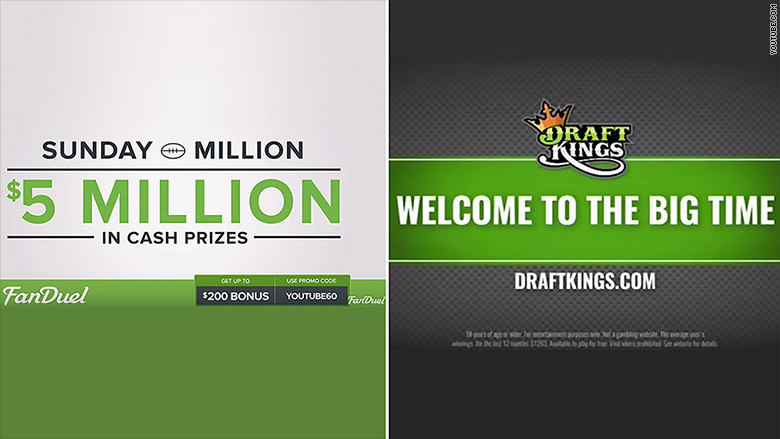 Daily fantasy sports are illegal gambling, New York State's top cop said on Tuesday, demanding that the two largest operators stop taking bets in the state.
New York Attorney General Eric Schneiderman issued cease and desist orders to DraftKings and FanDuel.
He told the companies to quit accepting bets from New York residents, joining a similar move by Nevada last month.
"FanDuel DFS contests are neither harmless nor victimless," the letter reads. "Daily Fantasy Sports are creating the same public health and economic concerns as other forms of gambling."
Schneiderman's office launched an investigation into DraftKings and FanDuel last month. He said Tuesday it revealed a business model more akin to a lottery and condemned the companies for advertising easy winnings.
Related: Fantasy sports: What is it, anyway?
"To date, our investigation has shown that the top one percent of [DraftKing's and FanDuel's] winners receive the majority of the winnings," Schneiderman wrote.
The letter also draws a distinction between their operations and "traditional" fantasy sports.
"Typically, participants in traditional fantasy sports conduct a competitive draft, compete over the course of a long season, and repeatedly adjust their teams," the letter said. "They play for bragging rights or side wagers, and the Internet sites that host traditional fantasy sports receive most of their revenue from administrative fees and advertising, rather than profiting principally from gambling."
DraftKings issued a swift response, saying that daily fantasy sports are a game of skill.
"We strongly disagree with the reasoning in [Schneiderman's] opinion and will examine and vigorously pursue all legal options available to ensure our over half a million customers in New York State can continue to play the fantasy sports games they love," the company said in a statement.
FanDuel, which is based in New York, released an angry statement after getting the cease and desist order.
"The game has been played -- legally -- in New York for years and years, but after the Attorney General realized he could now get himself some press coverage, he decided a game that has been around for a long, long time is suddenly now not legal," the company said. "We have operated openly and lawfully in New York for several years. The only thing that changed today is the Attorney General's mind."
It's the latest derailment for the daily fantasy sports sites. Their business came under heavy scrutiny after a DraftKings staffer was accused of using inside information to win $350,000.
Now both sites face various lawsuits and crackdowns from regulators and federal prosecutors.