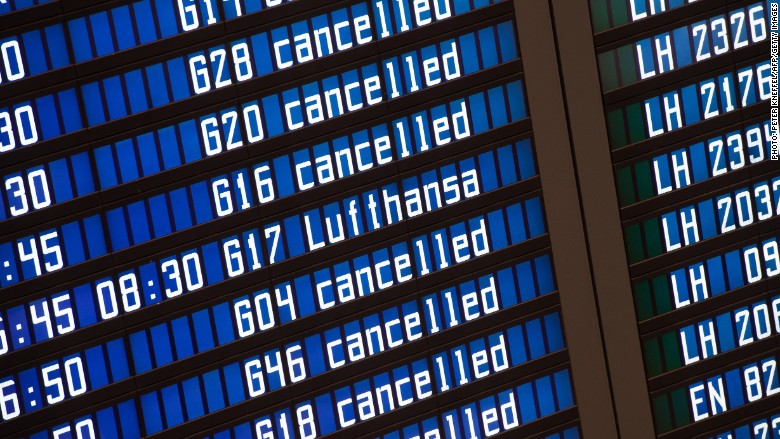 Germany's biggest airline Lufthansa is trying to force its striking cabin crew to get back to work.
The carrier confirmed Tuesday it had applied for a German court order to end the strike, which has now caused roughly 1,900 canceled flights since Friday. More than 235,000 passengers have been affected.
Lufthansa (DLAKY) offered workers a deal on Monday that's equivalent to a 6% pay rise, but said it would have to cut costs in other areas and "re-evaluate" some routes. The workers' union refused to discuss the offer.
"There was no offer to reject yesterday. Lufthansa proposed to cut the pensions for cabin staff in the future, which is absolutely unacceptable," union leader Nicoley Baublies told CNN.
The dispute is about pay and pensions. Lufthansa argues that its pensions are too expensive, given the growing competition it faces from low cost carriers.
"The company already offers its 19,000 flight attendants remuneration and employment benefits that are far above industry averages," the airline said in a statement.
The union says it is prepared to accept some cuts to retirement benefits but Lufthansa is going too far. It said the strike would continue until Friday.
The airline upgraded its 2015 earnings forecast last month, citing strong summer demand and low fuel prices. But it has warned that the "tailwind of low oil prices" may not last too long. It said it will focus on cost cutting to become more competitive in the tough European market.
Still in recovery mode
Lufthansa is still recovering from the blow that it suffered when disaster struck its subsidiary Germanwings in March. Germanwings flight 9525 was brought down deliberately by the plane's co-pilot, killing all 150 people on board.
The airline faced a backlash from the victims' families, who called Lufthansa's compensation offer an insult, and complained that Lufthansa CEO Carsten Spohr did not speak to them directly.
The airline has also been in dispute with its pilots, who have gone on strike several times in the past 18 months over the airline's early retirement packages -- an issue separate to the current dispute.
Shares in Lufthansa fell about 1.2% in Frankfurt on Tuesday in a firmer market.
--CNN's Chris Liakos contributed to this report.