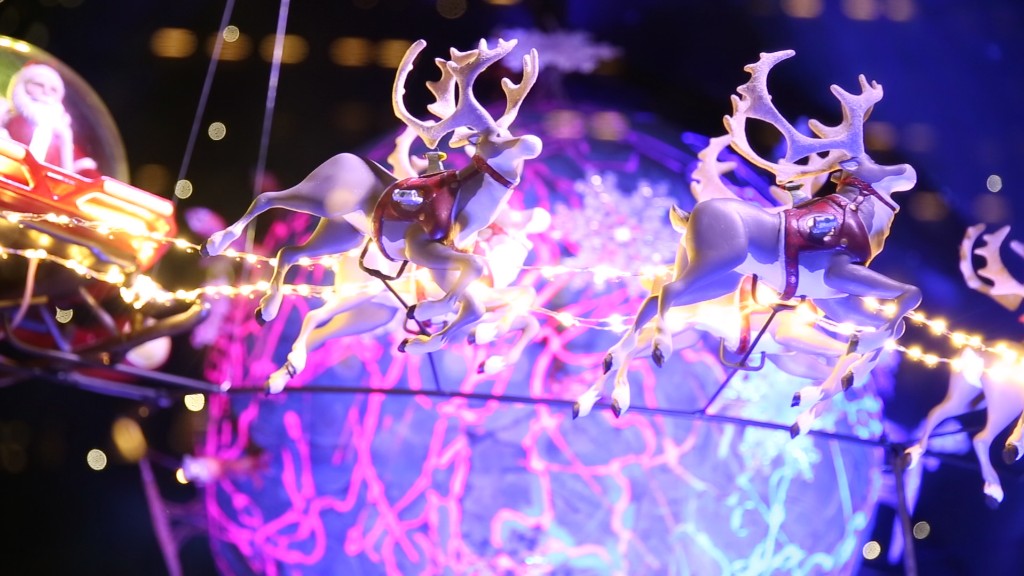 There was no Miracle on 34th Street for Macy's in its latest earnings report.
And Kris Kringle may not be bringing any presents to the company -- and its investors -- for Christmas either.
The iconic retailer, which also owns the Bloomingdale's chain, reported third quarter sales Wednesday morning that were down 5% from a year ago and well below forecasts.
Macy's (M) also said that sales in the fourth quarter -- typically the strongest of the year for the company -- would be lower than last year as well.
Related: H&M staying closed, Target to open on Thanksgiving
The company blamed sluggish demand from American consumers and a continued slowdown in visits from foreign shoppers.
The strong dollar has caused many European and Asian tourists to stay home instead of coming to New York and other U.S. cities where Macy's has a big presence.
"Spending by domestic customers remained tepid, especially in key apparel and accessory categories," said Macy's CEO Terry Lundgren. "Simultaneously, the slowdown in buying by international visitors continued to significantly impact Macy's and Bloomingdale's stores in tourist centers."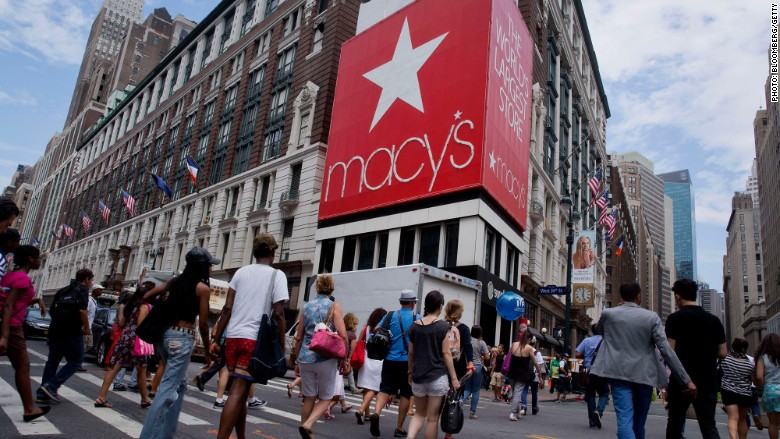 Shares of Macy's plunged more than 14% on the news. The stock is down nearly 40% this year.
S&P Capital IQ analyst Efraim Levy slashed his price target and earnings estimates for Macy's. He said he was "wary" of the stock because of the "drop off in traffic and apparel demand."
Macy's further disappointed investors by also saying Wednesday that it was no longer considering plans to spin off its real estate assets into a new company.
Related: How Banana Republic is getting killed by fast fashion
Activist shareholder Jeff Smith of Starboard Value Partners urged Macy's to set up a real estate investment trust, or REIT, in July. He argued that separating its real estate from its retail operations would boost the value of Macy's stock significantly.
But Macy's has decided to take other steps with its properties. The company said Wednesday that it is working with real estate firm Tishman Speyer to help it redevelop stores nationwide.
The two companies already worked together to revamp the Macy's store in downtown Brooklyn.
Macy's said it may even make big changes at its flagship stores in New York's Herald Square, San Francisco, Chicago and Minneapolis.
The company said that it wants to maintain "a robust Macy's retail store presence while also bringing alternative use into those buildings."
That could mean that other retailers will be able to operate outlets inside Macy's. To that end, the company also announced Wednesday that Italian eyeglasses maker Luxottica (LUX) will open 500 LensCrafters departments in Macy's U.S. outlets over the next three years. The deal is an expansion of an existing partnership. Luxottica already has about 670 Sunglass Hut stores at Macy's.
Related: Retailers gear up for big holiday shopping season
Macy's also did not rule out the sales of other locations. It recently sold stores in Cupertino, California and Pittsburgh.
Neil Saunders, CEO of retail research firm Conlumino, said that Macy's must upgrade its key stores and close ones that just aren't generating enough sales.
Saunders said that the company's biggest problem is that "Macy's remains a business that is somewhat out of kilter with what modern consumers want."
But Macy's woes are not company specific. They appear to be the latest sign that the U.S. consumer may be shunning traditional retailers in favor of "fast fashion" chains like H&M, Forever 21 and Zara.
Shares of Gap (GPS) plunged on Tuesday after the company reported dismal sales at its Banana Republic unit.
Amazon (AMZN) is also taking a huge bite out of sales from Macy's and other big brick-and-mortar retailers. Shares of Walmart (WMT), Kohl's (KSS), Nordstrom (JWN) and Sears (SHLD) have also been hit hard this year due to concerns about increased competition from Amazon and other online shopping sites.