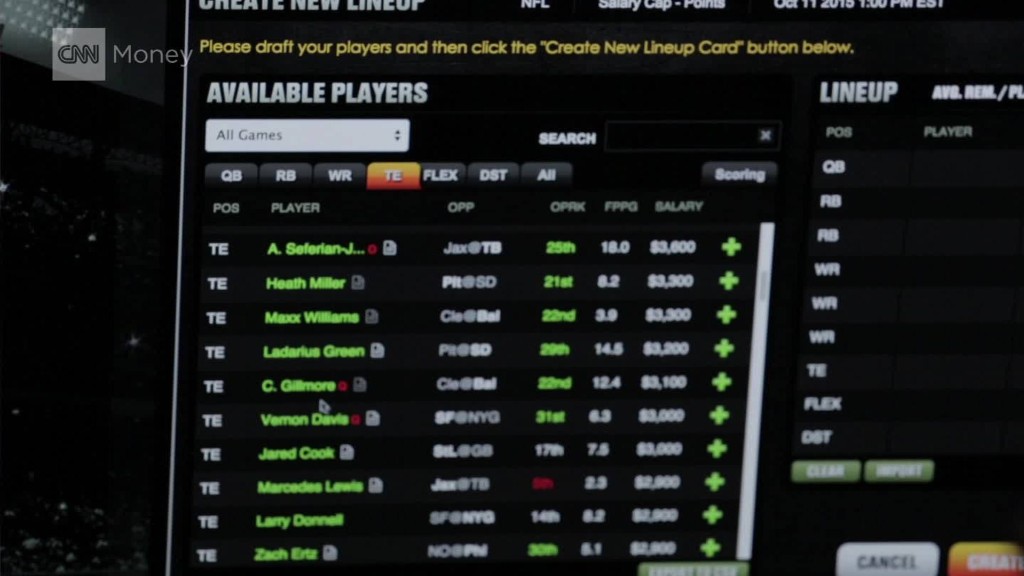 FanDuel and DraftKings won't leave New York without a fight.
State Attorney General Eric Schneiderman ordered the companies to stop letting New Yorkers play their daily fantasy games Tuesday because they violate the states gambling rules. On Wednesday both sites pledged to push back.
DraftKings said Wednesday it has a legal team in place to challenge the ban in court.
FanDuel, which is headquartered in New York, said it will "fight back with everything in our arsenal."
About 10% of FanDuel users are in New York, said CEO Nigel Eccles. He added that the company hasn't seen a spike in withdrawls by New York players since Schneiderman issued the order.
And daily entry fees are still coming in from the state, since Schneiderman has to wait five days before he can take legal action. That gives the companies time to hash the issues out with the AG in private.
The tussle comes as daily fantasy sports fans are set to kick off the DFS [Daily Fantasy Sports] Players Conference on Thursday in New York City. About 150 fans are slated to attend at a cost of $600 each.
The confab, co-sponsored by DraftKings and FanDuel, was scheduled long before Schneiderman determined that daily fantasy games are a form of illegal gambling.
The event's lineup includes a keynote speech from ESPN fantasy football analyst Matthew Berry and tips from seasoned players.
DFS forum site RotoGrinders.com is behind the conference. According to its website, players will learn "strategy" and "the best tools available" for improving their performance.
Related: Fantasy sports: What is it, anyway?
But whether or not daily fantasy sports requires strategy is at the heart of its controversy.
It's currently legal in most states thanks to a series of court decisions and a 63-word provision of federal law that classify fantasy sports as a game of skill.
But critics claim that unlike "traditional" fantasy sports, which are seasonal, daily games are based on luck and "designed for instant gratification," which makes it a form of illegal sports betting.
Nevada officials recently shut the companies out of that state, citing a similar argument.
The American Gaming Association said in a statement Wednesday that it will push for "strict regulation, rigorous consumer protections and robust tools for law enforcement to eliminate illegal sports betting," but didn't specifically mention fantasy sports.
The National Association of Attorneys General met with officials of both the casino and fantasy sports industries in September to talk about what gambling laws should apply to fantasy sports. And the U.S. Attorney's Office in Boston has launched a probe into daily fantasy sports, law enforcement officials have told CNN.
Five other U.S. states ban all fantasy sports, including seasonal games run by ESPN, CBS and Yahoo (YHOO).
Related: Why fantasy football is legal
--CNNMoney's Chris Isidore contributed to this report