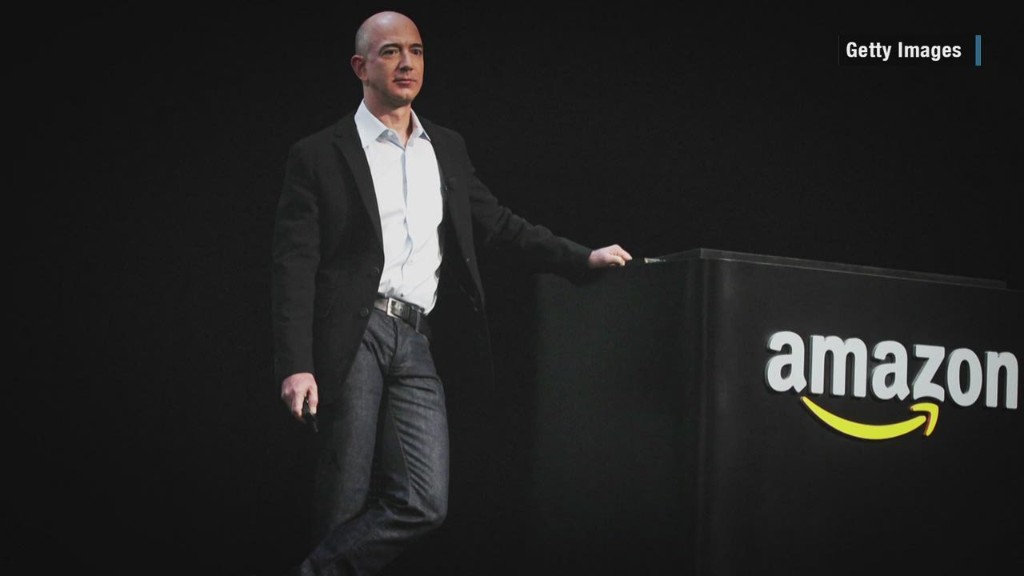 Amazon CEO Jeff Bezos is now the fourth richest person in the world, according to Bloomberg's Billionaires Index.
Bezos moved up a notch in the rankings on Tuesday after shares of Amazon rose to a high of nearly $660.
The 51-year-old overtook Mexican businessman Carlos Slim, who slipped to fifth. Bezos is now worth $58.2 billion -- about $1 billion more than Slim.
But Forbes also keeps track of the world's wealthiest, and still lists Slim before Bezos.
What no one disputes is Amazon's recent performance.
The company turned in two surprising profits in a row this year, helped by its cloud business, AWS.
Wall Street has been elated, and Amazon (AMZN)'s stock price is now more than double what it was at the beginning of this year.
Big Tech in general has had a stellar year. Alphabet (GOOGL) (Google), Facebook (FB), Apple (AAPL), and Microsoft (MSFT) have all reported better than expected results in the past few months. All are trading at or near record highs -- gains that benefit their execs too.
In total, Bezos saw his net worth grow by nearly 104% this year, or $29.6 billion, according to Bloomberg.
Facebook's founder and CEO Mark Zuckerberg moved up on the billionaire's list too this year after his company's stock rose 25%.
Alphabet founder and CEO Larry Page has seen his wealth grow by $9.3 billion. Close behind him in terms of gains is Alphabet's president, Sergey Brin, who has added about $8.7 billion.