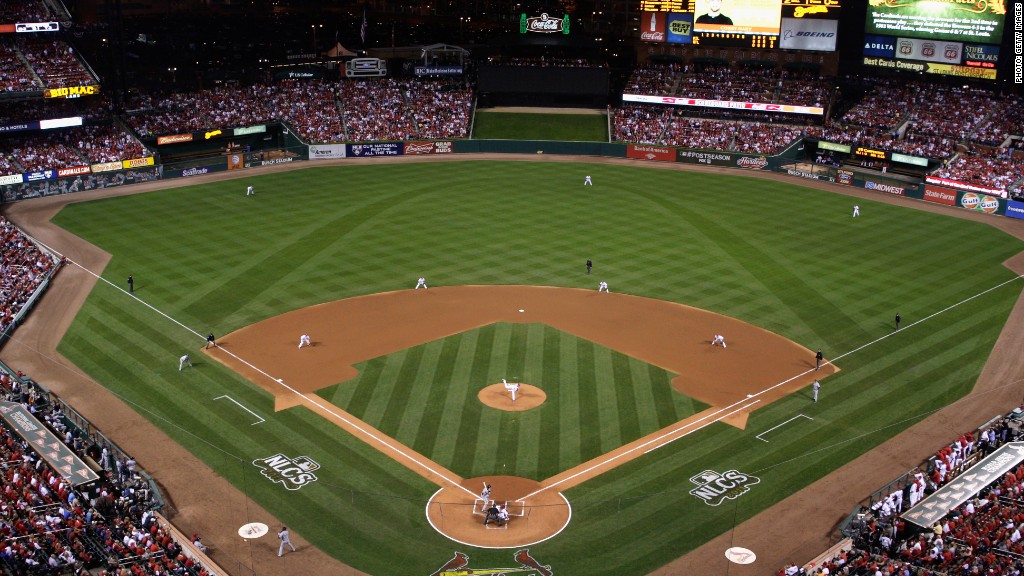 The Atlanta Braves wrapped up their worst season in 25 years last month. But maybe the Braves will fare better on Wall Street than the baseball diamond?
Fans of the Braves will soon have the opportunity to buy shares of a company that will monitor the financial performance of the team.
Liberty Media (LMCA), the conglomerate that owns the Braves and is controlled by mogul John Malone, announced Thursday that it plans to set up what's known as a tracking stock for the team.
That means investors will be able to buy a portion of Liberty Media that specifically tracks just the Braves' revenue and profits and not other parts of Liberty Media.
Tracking stocks do not give investors true ownership of a company though. You do not get a shareholder vote.
Malone, who is worth $7.4 billion according to Forbes, is a fan of tracking stocks because they keep him in firm control of the web of media assets he has big stakes in -- including Starz (STRZA), Discovery Communications (DISCA) and QVC (QVCA).
So don't buy shares of the Braves if you think your financial stake will convince the team's general manager to not trade star shortstop Andrelton Simmons this winter.
Liberty shareholders have to approve the move. If they do, the shares should start trading in the first half of 2016 (in time for Spring Training? Or Opening Day perhaps?) under the ticker symbols of BATRA, BATRB and BATRK.
Liberty also announced Thursday that it wants to set up two other tracking stocks.
One will be for its investment in satellite radio company Sirius XM (SIRI).
The other is for its stake in concert promoter Live Nation as well as minority investments in media giants Viacom (VIAB) and CNN owner Time Warner (TWX). The Braves were previously owned by Time Warner. Liberty acquired the team from Time Warner in 2007.
So what exactly would investors be getting if they buy shares of the Braves? The stock probably will rise and fall based on how the team does.
Related: Disney CEO Bob Iger leads effort to bring NFL back to L.A.
In a filing with the SEC earlier this month, Liberty said that revenues for the Braves fell $16 million in the nine months that ended in September. That was largely due to lower attendance and concession sales at the Braves' Turner Field.
But the bright spot of the team's poor performance is that operating profits increased by $9 million -- mainly because the team had such a low payroll.
The Braves can't keep shedding high-priced salaries forever though. The team is planning to move to a new stadium, SunTrust Park, in 2017.
It is also spending heavily to build the park and develop a mixed-use facility adjacent to the stadium.
The Braves purchased 82 acres of land in 2014 and is splitting the funding -- expected to total $672 million -- with Georgia's Cobb County.
Fans have gotten accustomed to winning teams. The Braves were the World Series champs in 1995 and have made the playoffs 14 times in the past 21 seasons. So the Braves must fill seats to be a financial success.
But even if the Braves return to the glory years of Smoltz, Maddux, Glavine, Lopez and Jones (both Chipper and Andruw) and start winning division titles and pennants on a routine basis, the stock is not guaranteed to be a home run. (Sorry.)
Related: Daily fantasy sports banned in New York
There was a time when many media companies owned stakes in sports teams before realizing that the costs outweigh the benefits.
Disney (DIS)once owned the Anaheim Mighty Ducks hockey team while Rupert Murdoch's Fox (FOXA) owned the Los Angeles Dodgers. There are still some big corporations that have investments in professional sports.
Comcast (CMCSA) owns a majority stake in the Philadelphia 76ers and Philadelphia Flyers basketball and hockey teams.
Baseball's Seattle Mariners are owned by Japanese gaming giant Nintendo (NTDOF) while the Toronto Blue Jays are owned by Canadian telecom/cable giant Rogers (RCI).
But there are currently only two major publicly traded sports teams pure plays: Madison Square Garden (MSG) -- which owns the NBA's Knicks, the NHL's Rangers and the New York Liberty of the WNBA -- and soccer's Manchester United (MANU).
The Boston Celtics, Cleveland Indians and Florida Panthers all once traded on Wall Street. Those old stock certificates are now nothing more than cool decorations for a sports fan's man (or woman) cave.