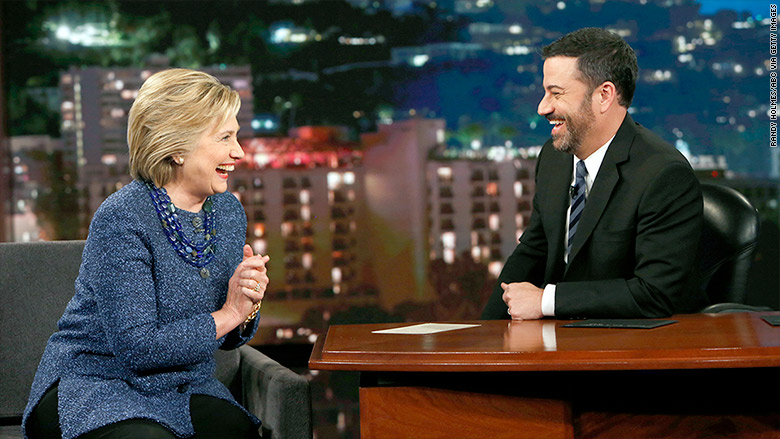 Jimmy Kimmel beat Stephen Colbert in the ratings battle for the first time last week, thanks to an assist from Hillary Clinton.
ABC's "Jimmy Kimmel Live" brought in an average of 2.6 million viewers to Colbert's 2.5 million viewers.
This was Kimmel's first victory over the new CBS "Late Show" since Colbert took over nine weeks ago.
One of the big reasons was Democratic presidential candidate Hillary Clinton, who was Kimmel's guest on Thursday.
Clinton's appearance gave Kimmel his best viewership since June when his show followed the NBA Finals.
It should be noted that Kimmel's Tuesday's night show did not count towards the average due to Election Day coverage and he aired a rerun against Colbert on Friday.
Related: Jimmy Kimmel to host in two cities at once via hologram
Kimmel, who has been in third place this season, has pulled out the stops lately by doing a full week of shows from Brooklyn, hosting in two cities at once via hologram technology, and dressing up his entire crew in "Star Wars" outfits for Halloween with Kimmel dressed as Princess Leia.
He missed out on a big night when Donald Trump backed out of an appearance.
As for Colbert, CBS announced on Wednesday that Colbert has a chance to showcase his broadcast to potentially his largest audience ever when "The Late Show" airs after Super Bowl 50 in February.
Yet, both Kimmel and Colbert still find themselves looking up at Jimmy Fallon.
NBC's "Tonight Show" host led all of late night last week by a healthy margin bringing in an average of 3.4 million viewers.
Fallon also is king of late night when it comes those aged 18 to 49 years old bringing in a 0.91 rating compared to Kimmel's 0.60 and Colbert's 0.57 last week.
Correction: An earlier version of this story said that last Tuesday didn't count towards Jimmy Kimmel's rating because of the debate coverage. The reason Tuesday didn't count was because of election coverage.