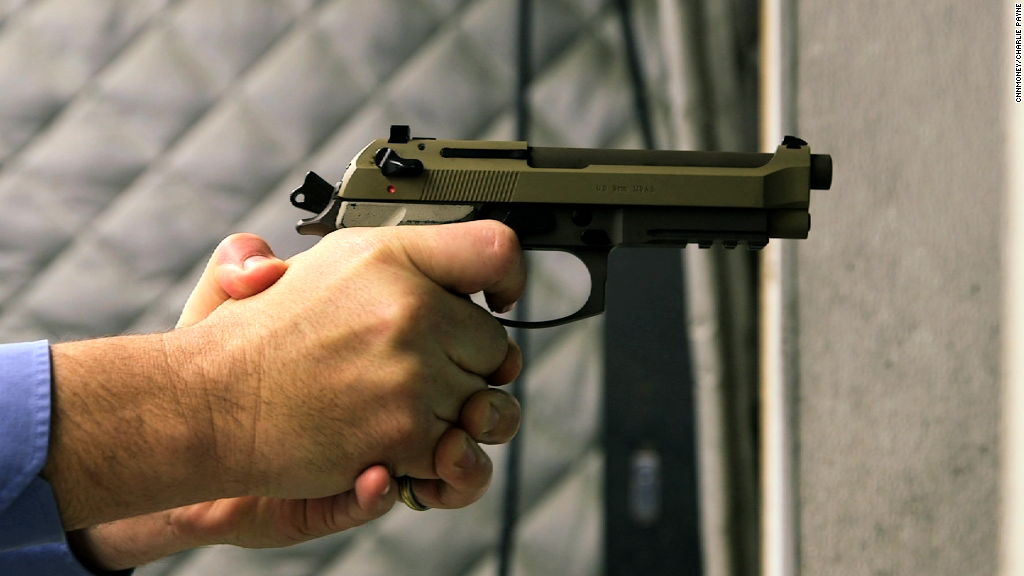 Beretta is now selling its upgraded Army handgun to civilians.
The company started shipping its M9A3 pistol to retailers last week.
The sand-colored 9mm semiautomatic was designed for U.S. soldiers in the harsh terrain of Afghanistan. But the Department of Defense hasn't decided whether it wants to switch to Beretta's upgraded gun, or ditch the Italian company and go with a competitor.
Regardless of what the DOD decides, civilians can now buy the M9A3 for $1,099. Beretta is marketing it as a gun for cops and "military customers worldwide."
Beretta has been the U.S. military's official supplier of sidearms since 1985. The company is currently in a contract to supply the military with as many as 100,000 M9 pistols through 2017.
Related: My 'Lethal Weapon' moment with Beretta's new gun
The Army's R&D headquarters at the Picatinny Arsenal in New Jersey has put out a request for proposal for a new pistol, and gun companies have until January 28, 2016, to submit their designs.
The Army says it wants a gun that fires hollow point bullets, which can cause severe damage, and it also wants one that can use silencers. It's also asking for two different pistol sizes. But the Army hasn't specified the caliber of the ammunition or the capacity of the magazine it wants.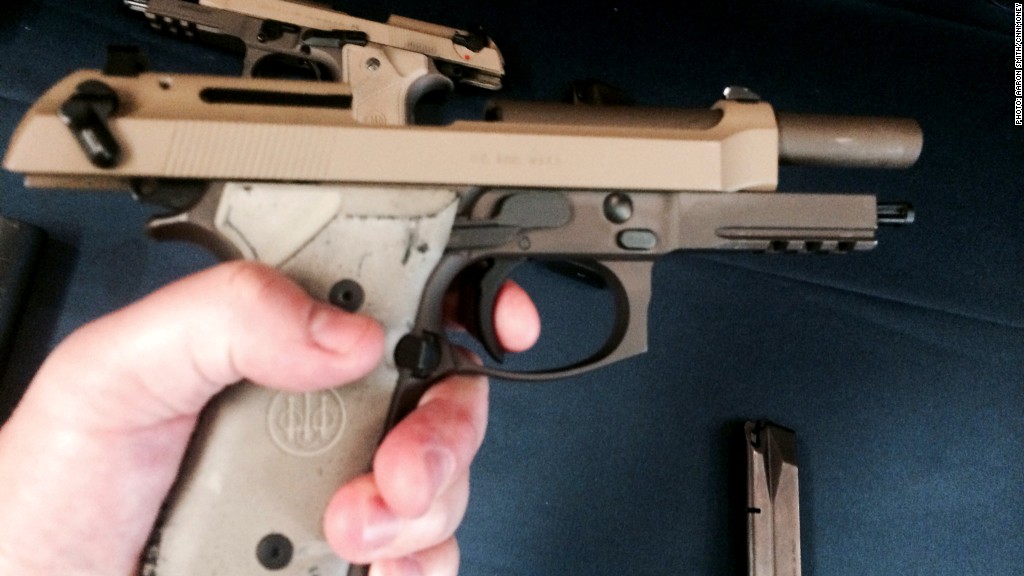 Beretta designed the M9A3 as an educated guess to what the military might be looking for. The M9A3 magazine holds 17 bullets, which is two more than the M9.
Not only is the gun the color of sand, but it's designed to be sand-resistant, so it's less likely to jam in dusty climates like Afghanistan and Iraq. It also has the unusual feature of an optional, extra-fat grip that can be snapped on, Lego-style, over the handle to accommodate large hands.
Related: What really goes on at a gun show
Beretta is competing for the contract against Smith & Wesson (SWHC), which is actually partnering with General Dynamics (GD) to take advantage of its expertise with government contracts. Smith & Wesson makes the popular M&P pistol, which stands for military & police.
Beretta is an Italian company that can trace its history as a military gunmaker back to 1526, when it supplied cannon barrels to the arsenal of Venice.
The company has manufactured guns in the U.S. since 1987, and is relocating its factory from Accokeek, Maryland, to Gallatin, Tennessee.