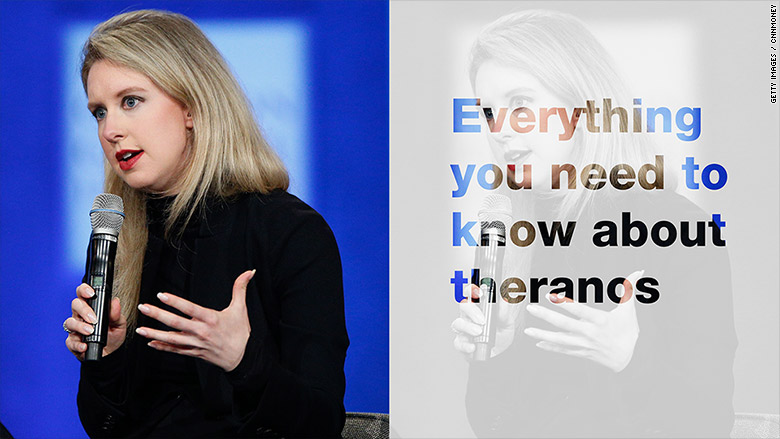 Theranos, a biotech company and Silicon Valley darling, is under close watch.
The blood-testing startup is billed as a classic industry disruptor -- offering a cheaper, more efficient alternative to traditional medical tests. Its founder, a 31-year-old Stanford dropout, is a tech star.
It has raised hundreds of millions in venture capital funding and is valued at more than $9 billion. That makes it a "unicorn" -- startup-speak for a private company valued at $1 billion or more.
Related: What we know about the science behind Theranos
Theranos, founded in 2003, claimed it could "quickly process the full range of laboratory tests from a few drops of blood."
But in October, the Wall Street Journal published a front-page investigation questioning Theranos' blood tests -- the core of its business.
If you're just catching up, here's what you should know:
1) On October 15, 2015, the Journal reports that Theranos is using its proprietary technique on only a small number of the 240 tests it performs.
The upshot is a seeming blockbuster: The vast majority of Theranos' tests are done with traditional vials of blood drawn from the arm, not the "few drops" taken by a finger prick. The Journal said Theranos deleted the "few drops of blood" claim on its website during the course of its reporting.
2) Theranos releases a statement defending its testing practices. It calls the Journal's reporting "factually and scientifically erroneous." Founder and CEO Elizabeth Holmes says she's "personally shocked" by the allegations.
3) This brings us to Holmes, the youngest female self-made billionaire. She has no medical degree; she dropped out of college at age 19 to start the company. Holmes has cited a fear of needles as the drive behind starting Theranos.
4) One day after the initial WSJ story, the newspaper reports that Theranos halted the use of its proprietary technology due to pressures from the FDA.
Theranos says the pause was voluntary while it seeks FDA approval. It's currently only using its tiny vials (known as "nanotainers") for one test -- herpes -- that it received FDA clearance for in July.
5) On October 21, less than a week after the initial WSJ article, Holmes speaks at a high-profile tech conference put on by the paper. She defended her company and took a swipe at the Journal, saying she has "a lot of concerns" about the article. "We know what we're doing and we're very proud of it," Holmes said.
Holmes also publicly addressed vocal critics like Google Ventures manager partner Bill Maris: "We have never met them and, in fact, they reached out to meet us and we said no. ... If he wants to just talk badly about us, he can just talk badly about us."
6) According to Maris, who focuses on life sciences investments, his firm didn't pursue an investment because the technology raised red flags. He said one Google Ventures partner took a Theranos test that required much more blood to be drawn than promised.
7) The WSJ reports on October 23 that Walgreens will halt opening any additional Theranos Wellness Centers for now. Theranos tests are used in Wellness Centers at 45 Walgreens (WBA) pharmacies in three states. Walgreens tells CNNMoney it is "currently in discussions about the next phase" of its relationship with the startup.
8) The FDA releases two heavily redacted reports on October 27. The reports cite 14 concerns with Theranos after an FDA inspection conducted between August 25 and September 16. The main one is that its nanotainer vial is an "uncleared medical device." Theranos says it already corrected the issues raised by the FDA.
9) Theranos confirms changes to its board of directors, saying it has a medical board and a board of counselors. The New York Times reported that the changes were made in response to criticism that the board had too few medical professionals.
But Theranos says it has been operating with the two boards for years and formalized the structure in July.
10) Holmes vows to be more transparent about the science behind Theranos, something critics have called for. She says the company will publish peer review studies in medical journals.
"There's no reason why we can't do peer review. And there's no reason we can't publish other stats ... We're going to do that," Holmes says at Fortune's Global Forum on November 2. "I want to try and lead in transparency."
11) The Centers for Medicare & Medicaid Services said that Theranos' Newark, California, lab poses an "immediate jeopardy to patient health and safety." It sent a letter to the company on January 25, which it released to the public two days later, giving the firm 10 days to improve conditions at the lab. Theranos says that it has already addressed policy and personnel changes and will correct any outstanding issues in the coming days.