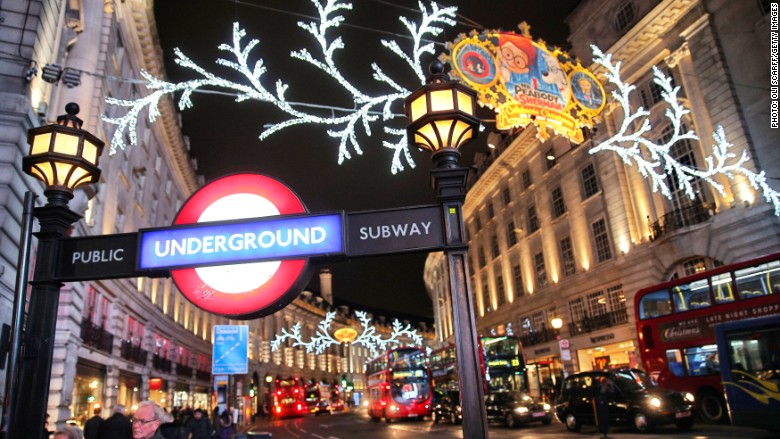 The annual race for "blockbuster" status has begun.
U.K. retailers are rolling out their Christmas holiday season commercials, hoping their ad will be the funniest, most heart warming or tear jerking - or biggest viral hit.
In the running this year: Jeff Goldblum, a lonely old man and an ad by Paypal (PYPL) that was accused of ruining the magic of Santa Claus.
Around $2.2 billion will be spent on British TV slots alone this season, and $3.3 billion on advertising online, according to the U.K. Advertising Association.
That totals about 70% of all spending on advertising expected in the fourth quarter of 2015.
Department store John Lewis -- the British equivalent of Nieman Marcus -- is famous for its tear-jerker Christmas ads.
Last year it starred a penguin. This year, it's a lonely man in the moon.
The company has partnered with charity Age U.K. to raise awareness about loneliness in later life.
Burberry's (BURBY) commercial must have cost a pretty packet.
The British designer employs a host of A-list stars to recreate the first scene from the Billy Elliot movie, which is 15 years old.
The all Brit lineup includes Romeo Beckham, Elton John, Naomi Campbell, Michelle Dockery (Downton Abbey) and many more.
Burberry hurt as Chinese cut back on luxury shopping
Walmart (WMT) subsidiary, Asda, has a fun-packed ad urging people to get into the Christmas spirit.
The U.K.'s second biggest supermarket chain has created the hashtag, #becauseitschristmas, in the hope of making a splash on social media.
The Body Shop, owned by L'Oreal, (LRLCF) has produced a cheeky ad in more ways than one.
It features a collection of people sing 'Jingle Bells' in the shower. If you look carefully, you may even spot a butt cheek or two!
Designer Mulberry has recreated the Nativity with a handbag in the place of Jesus.
Mulberry has been struggling after a major misstep saw it price products out of reach of its traditional audience.
And the company may be hoping for Christmas miracle. It posted just 1% sales growth in its last annual earnings even after dropping prices to win back business.
Related: Lego won't have enough bricks for everyone this Christmas
This ad by PayPal was accused of ruining the magic of Christmas.
The company was forced to apologize after hundreds of people complained the commercial implied that parents buy all the presents at Christmas and there was no room for Santa Claus.
PayPal has now promised to show the ad after 9 pm in the U.K., when fewer younger children are watching TV.
Jeff Goldblum stars in a series of ads for electrical retailer Curry's.
In a twist, none of the slots show any products until the final frame. Instead, Goldblum coaches people in how to act happy that they have received something boring, by pretending they have been given a new gadget or electrical appliance from Curry's.