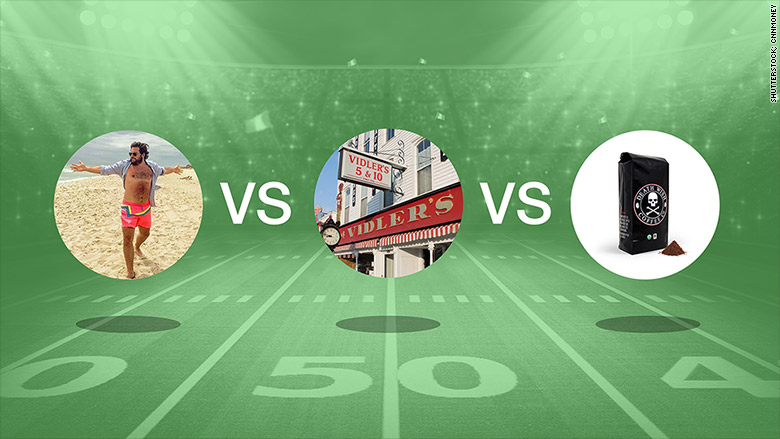 One small business is just weeks away from scoring a win of a lifetime: a free 30-second ad that will air during the Super Bowl.
The Super Bowl is the most watched event of the year, and a 30-second ad spot is expected to cost a record-breaking $5 million.
Most small businesses would never be able to afford this exposure, which is where Intuit (INTU) comes in.
The software firm is running a contest to give one lucky business an all-expenses paid trip to Super Bowl ad glory. 15,000 firms entered, and over the past six months, it's been whittled down to just three firms: Chubbies Shorts, Death Wish Coffee and Vidler's 5 & 10.
The public voted to determine the final three. The company that received the most votes will be crowned -- but Intuit won't announce it until January. It's the second time Intuit has run the contest. In 2013, Goldieblox -- which makes engineering toys for girls -- won the coveted ad spot.
Related: Super Bowl ads 2015 -- the grim, the poignant
San Francisco-based Chubbies is an online retailer with a serious mission: bringing back short men's shorts that were popular in the 1970s and 80s.
"We like the brazen look of shorter shorts, the kind that our fathers wore," said Chubbies cofounder Tom Montgomery.
The brand launched in 2012 and now has 35 employees, with sales doubling annually.
"The Super Bowl is exactly where our 18-24 year old customers are, and more than 100 million of them," he said. "A Super Bowl ad would be the ultimate way of getting the word out about our brand."
Related: Super Bowl 50 ads to be broadcasted and streamed
Death Wish Coffee, in Round Lake, N.Y., is also an online business with a lofty claim: the world's strongest coffee.
"An average cup of coffee has 217 mg of caffeine. Ours is double that," said owner Michael Brown.
Brown created the ultra-strong dark roast premium blend in 2012 because his customers asked for it.
"I've had a coffee shop for years and my customers were always asking for stronger coffee," he said. Last year Death Wish Coffee logged $3 million in revenue.
What's more, he says it has a fanatical fan following. "We have fans who've tattooed our logo on their chest," he said.
Winning the contest, he said, could help expand the brand into grocery stores and coffee shops.
Vidler's 5 &10 is the third finalist and is a Buffalo, N.Y. institution. Don Vidler's grandfather opened the store in 1930 as a five-and-dime store. Today, it has 16,000 square feet and is still family run.
"You can still buy candy for a dime, but we're selling a much wider variety of items now that are a little bit more expensive," he said.
Among its most popular items: a yodeling pickle and a "biker babe" garden gnome.
Getting this far has already boosted the store's sales. A win could do the same for its online business.
"We've revamped and relaunched our website recently," said Vidler's cousin and the store's co-owner Cliff DeFlyer. "We weren't getting much traction online before the contest. But now we're seeing sales pickup there, too."