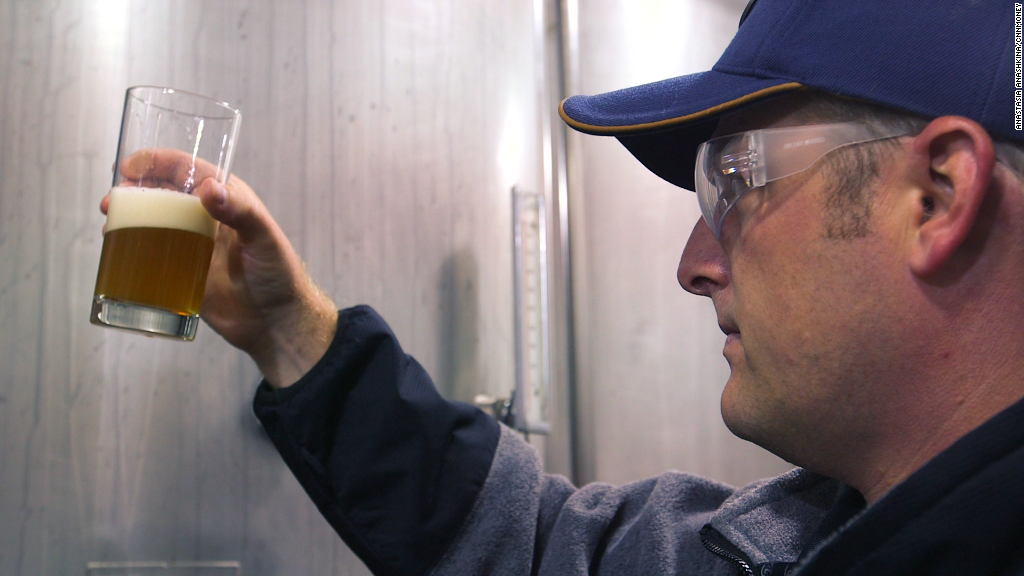 Big Beer just snapped up another craft brewery.
Constellation Brands (STZ), the company that makes Corona Extra and Modelo Especial, announced Monday that it was paying $1 billion for craft brewer Ballast Point Brewing & Spirits.
The purchase is the latest example of a major brewer paying an eye-popping amount for a piece of the fast-growing craft beer segment.
With sales of mega-brands like Bud and Coors stagnating, Constellation (STZB) is paying for Ballast Point's growth potential. The San Diego-based craft brewer expects to sell nearly 4 million cases of beer in 2015 -- more than double the previous year. Net sales are forecast to hit $115 million.
The Brewers Association, an industry trade group, said that craft beer sales grew by nearly 18% last year. Brewers produced more than 22 million barrels of the stuff in 2014, compared to only 8.5 million barrels in 2008.
Constellation isn't the first big brew label to court smaller players. AB InBev bought Seattle's Elysian Brewing in January after acquiring Oregon's 10 Barrel Brewing in 2014 and Chicago-based Goose Island in 2011. In May, SABMiller announced it would buy London's Meantime Brewing Co., a leading U.K. craft beer.
The big brewers don't have to buy the smaller brewers outright. They can purchase a significant minority stake which essentially gives them control over a brand that many of its customers like to think of as independent.
For Constellation, buying a craft brewery is a major strategy change. Amid a wave of industry consolidation, CEO Rob Sands said in 2014 that he wasn't interested in buying a craft brewery.
"People expect one of the big guys to get in and roll up the craft business," he said at the time. "But it's not clear that's a good strategy."
The move comes shortly after AB InBev (AHBIF) announced it would acquire SABMiller for $104 billion, the latest example of a big brewer trying to get even bigger. Regulators are expected to take a close look at the proposed merger.
-- Chris Isidore contributed to this report.
Correction: An earlier version of this story misstated the year that AB InBev bought Goose Island. It was in 2011, not 2014.