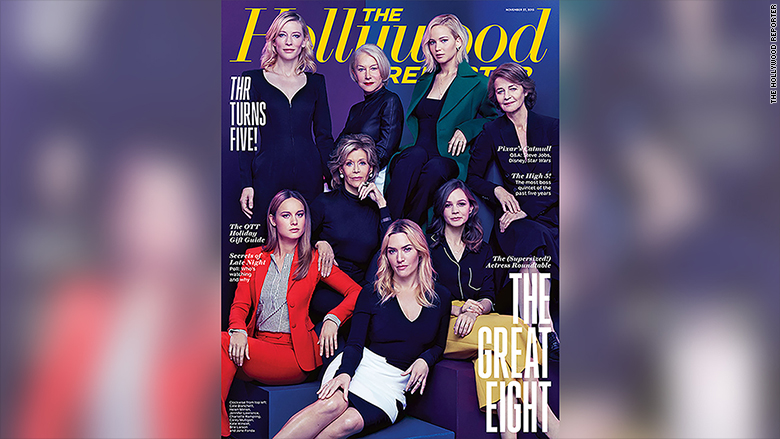 Eight acclaimed actresses grace the cover of the latest issue of The Hollywood Reporter, but there isn't a minority in the bunch.
The lack of diversity, the magazine explained, is merely a reflection of this year's pool of Academy Award contenders.
"The awful truth is there are no minority actresses in genuine contention for an Oscar this year," wrote Stephen Galloway, THR's executive editor of features.
The cover features a mix of current Oscar contenders and previous best actress winners: Cate Blanchett, Helen Mirren, Jennifer Lawrence, Charlotte Rampling, Carey Mulligan, Kate Winslet, Brie Larson and Jane Fonda.
It's a part of THR's "roundtable" series, which Galloway described as a "defining element of [THR's] awards coverage through the Emmy and Oscar seasons."
In his essay, which was published Wednesday, Galloway took a plaintive view on the subject. He celebrated the women featured on the cover, calling them "eight of the most talented actresses alive." But Galloway said he couldn't "ignore the fact that every one of these women was white -- whether old or young, English, Australian or American."
"That was appalling," Galloway wrote.
Related: Hollywood Reporter to stop publishing lists ranking women
So who's at fault?
Galloway said he and his colleagues deserve some blame. He pointed to a previous directors "roundtable" in which he excluded the African-American filmmaker F. Gary Gray.
But Galloway said the lion's share of responsibility falls on the Hollywood studios that create and cast the movies.
"Speak to the executives that run the industry, and they say they want change," he wrote. "But there are hardly any black film executives, and too few producers. Black directors? Not enough -- and certainly not black women directors."
"If there were far more minority men and women to choose from, this sort of hand-wringing would never exist. And it's about time it changed," Galloway wrote.
The latest THR issue comes on the heels of an announcement from the magazine last week that it will no longer rank women in its annual media "power" lists.
Sign up for the Reliable Sources newsletter — delivering the most important stories in the media world to your inbox every day.