Inequality is everywhere in the United States...even in the halls of Congress.
The richest 10% of federal lawmakers control 78.4% of Congress' total wealth, according to a new report from the Center for Responsive Politics. Their total net worth: a breathtaking $3.4 billion.
That's just a touch above the share of wealth controlled by the richest 10% of Americans nationwide. The United States has one of the highest levels of wealth inequality among developed nations.
The rest of Congress isn't exactly poor by national standards, but the divide is stark. The bottom 40% of lawmakers hold just 0.5% of the wealth...though that comes to a not-so-paltry $21 million.
Still, the typical federal representative is far wealthier than the average person he or she represents. A Congress member's median net worth was about $1.1 million in 2014, up 6.7% from a year earlier. That's nearly 20 times the median wealth of an American family, which came to $56,400 in 2013, the most recent year available.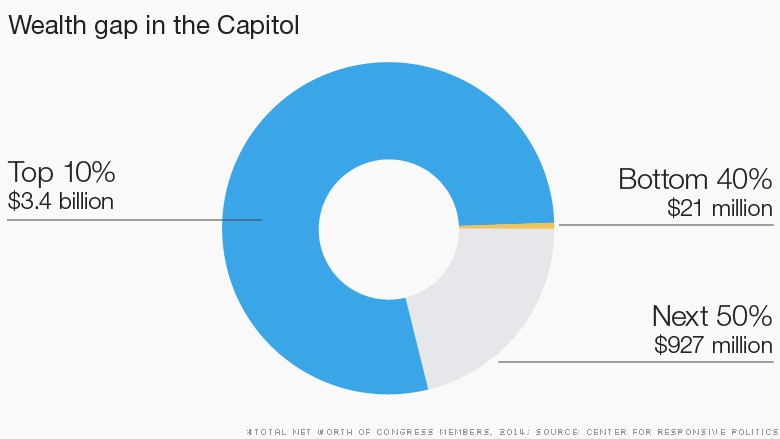 Among the lawmakers, though, there is vast wealth and deep debt, according to the center's review, which looked at members' 2014 financial disclosure statements.
California Representative Darrell Issa, a Republican, once again topped the list with an average net worth of $437 million. His wealth, which dipped slightly from the prior year, stems from his car alarm business.
Jared Polis, a Democratic representative from Colorado, came in second with an average net worth of $338 million. Polis is the founder of several companies, including online greeting card creator Bluemountain.com and Proflowers.com. Virginia Senator Mark Warner, who co-founded the company that became Nextel, which eventually merged with Sprint, came in third with an average wealth of nearly $243 million.
At the other end of the spectrum is David Valadao, a Republican representative from California, who is $25 million in debt, more than double the year before. That's mainly because of lines of credits he's used to finance his family's dairy business.
Florida Representative Alcee Hastings, a Democrat, is $4.7 million in the red, stemming mainly from legal bills dating back to the 1980s. Emanuel Cleaver, a Democratic representative from Missouri, came in third with a net worth of -$2.3 million. He owes Bank of America more than $1 million on a loan he used to buy a car wash, which he sold in 2013 for between $250,000 and $500,000.
A total of 21 members of Congress are in the hole financially, with more debts than assets.
Looking at the two chambers, senators remain wealthier than their counterparts in the House. Senators' median net worth was $2.9 million, while the median wealth of representatives was $860,000.
Democrats and Republicans each had roughly the same median net worth of $1.1 million.