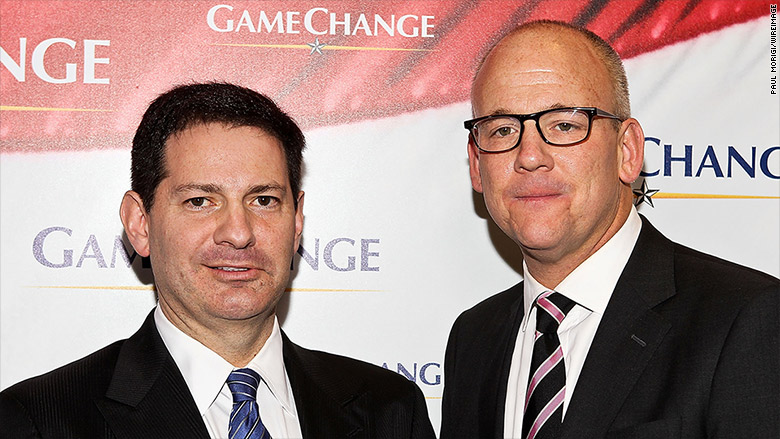 Talks to have MSNBC rebroadcast Bloomberg TV's political talk show are riling people at both networks.
The talks, first reported by New York Magazine, center around rebroadcasting Bloomberg's 5 p.m. show "With All Due Respect" at 6 p.m. on MSNBC, sources at both networks who are familiar with the discussions said.
"With All Due Respect" is hosted by "Game Change" co-authors Mark Halperin and John Heilemann, who are regular guests on MSNBC's "Morning Joe."
For many at NBC, the idea of rebroadcasting a competitor's show feels desperate. "Talk about out of ideas," one on-air talent at MSNBC said. "We're going to run a rerun of another rival network's show? As a programming decision that is completely insane."
The talks have involved the top brass from both sides, including NBC News and MSNBC Chairman Andrew Lack, MSNBC President Phil Griffin, Bloomberg Editor-in-Chief John Micklethwait, Bloomberg CEO Justin Smith and Bloomberg Television head Al Mayers. They have haggled over everything from financial considerations to branding to standards, the sources said.
Related: Bloomberg to expand Halperin-Heilemann show
For MSNBC, rebroadcasting "With All Due Respect" would allow them to fill a 6 p.m. slot that has been effectively vacant since early September when Al Sharpton moved to weekends. The show has also been very successful in booking Republican presidential candidates (a challenge for the historically liberal MSNBC). It also fits with Lack's greater vision of turning MSNBC into a more straightforward news and politics channel.
For Bloomberg, as well as for Halperin and Heilemann, the deal would mean greater exposure. While influential among the Wall Street set, Bloomberg Television viewership is so small that it's not rated by Nielsen.
Related: The unlikely endurance of MSNBC's Chris Hayes
While there are potential benefits for both sides, there are also complications and drawbacks, not least of which are the frustrations among staffers at both companies.
NBC sources said that CNBC executives were offended by the idea. Bloomberg is a direct competitor of CNBC, and it confounds executives there that NBC would entertain a deal that would give air time to the competition.
Many Bloomberg Television staffers outside of Halperin and Heilemann's orbit are also struggling to make sense of why Bloomberg would give its content to a competitor. Bloomberg pays Halperin and Heilemann more than $1 million each per year, and it's not clear to them why MSNBC should reap the benefits of that investment.
The idea is not without precedent: Bloomberg currently re-airs broadcasts of "Charlie Rose," which airs first on PBS. Yet MSNBC is in the live news business, and it's not immediately clear to NBC staffers how the channel would benefit from airing taped programming in the run-up to prime time.
Related: Brian Williams returns to TV without fanfare at MSNBC
It's also unclear that either side would get a significant ratings boost from the deal. MSNBC's 5 p.m. show, "MTP Daily," hosted by Chuck Todd, has floundered in the ratings. The show has averaged 499,000 viewers since it launched, and just 65,000 of those viewers are in the coveted 25-to-54 year-old demographic.
But sources at NBC say Lack may be less concerned with ratings than with relevance. Halperin and Heilemann are big names in New York and Washington, and their addition could buy MSNBC a greater stake in the political discussion during the 2016 campaign. To that end, sources said, he may be willing to overlook the hurdles.
Sign up for the Reliable Sources newsletter — delivering the most important stories in the media world to your inbox every day.