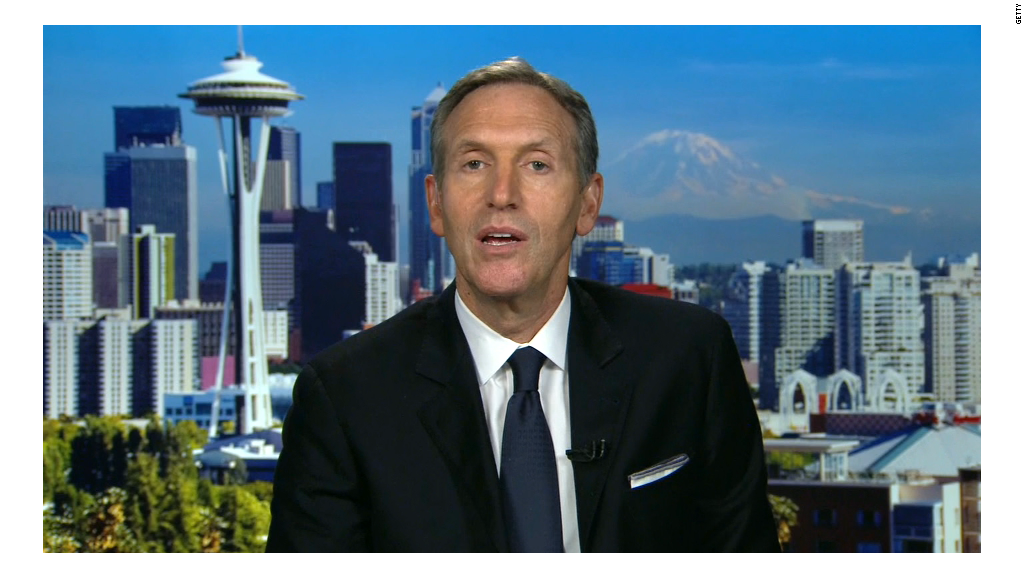 Starbucks is ready to start building in Ferguson, Missouri.
The coffee giant broke ground on a new store in the city Thursday, with a special ceremony that featured appearances from the mayor, community members and local businesses.
The Starbucks (SBUX) store in Ferguson will be managed by local resident Cordell Lewis, who recently enrolled in the company's college achievement plan to pay for his bachelor's degree.
Lewis was specifically recruited for the location by a regional director who was impressed with his involvement in the community.
Initially, Lewis was hesitant to take the position since he had another job and was taking courses at a community college. However, he was swayed by Starbucks' mission to advance the community.
"I like a challenge and I don't like anything that's stagnant," Lewis said in a statement. "And this is not stagnant at all."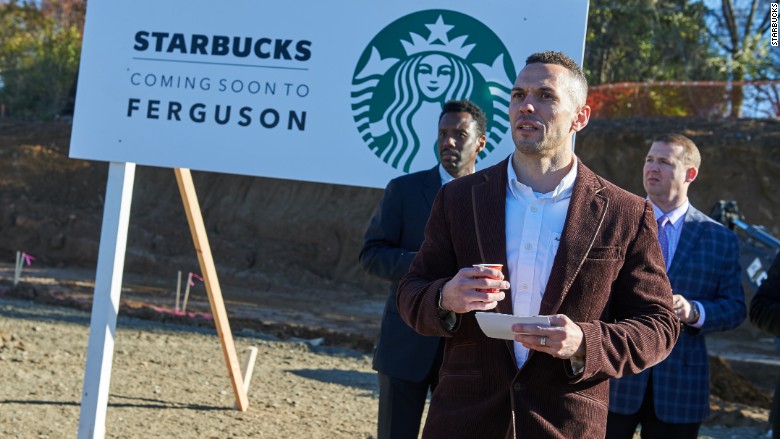 Ferguson is still recovering from violent riots that broke out in August 2014 after a white police officer shot unarmed black teenager Michael Brown. The shooting led to civil unrest and a national debate about race relations.
The decision to open a store in Ferguson was announced in April by CEO Howard Schultz after he'd hosted a forum on racial inequality in St. Louis. Inspired by Ferguson, Schultz decided to develop a broader plan to open 15 stores in racially diverse, low and middle income neighborhoods by 2018.
Related: Starbucks' new perk for military vets: Free tuition for kids
In addition to Ferguson, four other stores are scheduled to open next year in Jamaica, Queens, the South Side of Chicago, Milwaukee and Phoenix.
Lewis has already hired five local residents and plans to hire another 20-25 people before the store opens next spring.
During Thursday's groundbreaking, Lewis spoke about his vision to create a store where "everyone is treated with respect, whether they're coming in for a glass of water...or they want to get a handcrafted beverage."
Related: 4,000 Starbucks workers are going to college for free
The company's community investment director, Rodney Hines, emphasized that incorporating the existing community is central to Starbucks' goal for these new locations.
For instance, Starbucks has partnered with Natalie DuBose, owner of the Ferguson-based Natalie's Cakes & More, to sell her signature caramel cake at the Ferguson location and in 11 St. Louis stores.
DuBose's business was damaged by the Ferguson riots, but the partnership with Starbucks has helped her expand her operations.