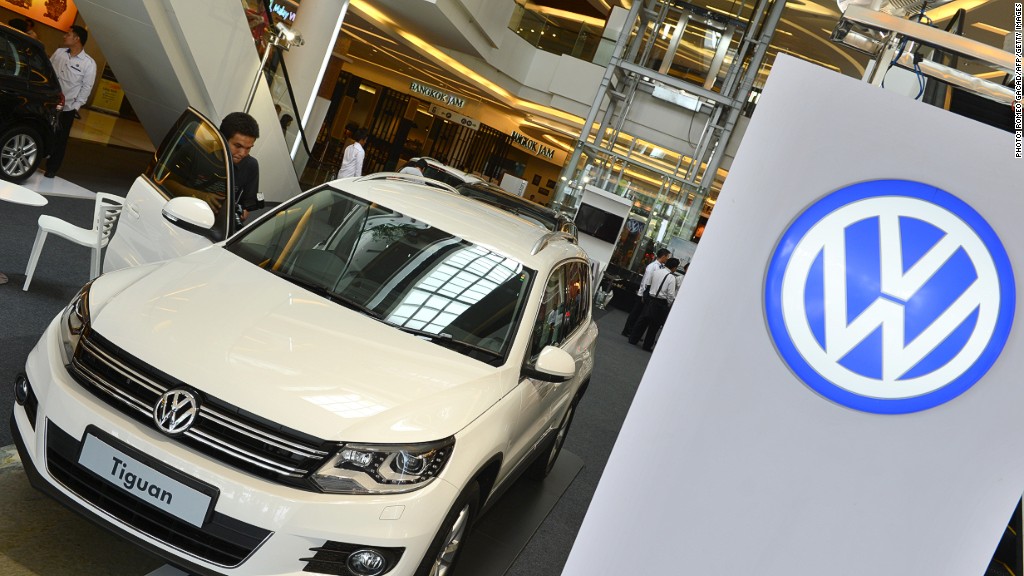 Friday is the deadline for Volkwagen to tell U.S. regulators how it plans to repair nearly 500,000 diesel cars so that they comply with the Clean Air Act.
A fix has yet to be announced, but a solution to the problem is likely to either hurt the cars' fuel economy or their performance on the road. Good fuel economy is a major reason why many owners paid extra for the diesel engines in the first place.
"There's no good, quick, easy answer here," said John German, a senior fellow at the International Council on Clean Transportation, the group that discovered the problem with Volkswagen and Audi exhaust systems and alerted regulators.
What is certain is that it will be expensive. VW (VLKAY) has already set aside 8.7 billion euros, or about $9.3 billion, to fix the problems in more than 11 million cars worldwide.
Volkswagen has admitted that "clean diesel" models from its two major brands, VW and Audi, have software designed to cheat on emission tests. The cars cut back on pollution when they're tested, but they dump as much as 40 times the allowed level of pollutants such as nitrogen oxide (NOx) into the atmosphere when they're on the road.
Related: Volkswagen cuts costs to deal with emission scandal
An EPA spokesperson confirmed that officials from VW and Audi met with agency officials Thursday and will do so again on Friday.
"We are in frequent, ongoing discussions with VW about next steps. We anticipate that there will be discussion of VW's draft remedy and recall proposal," said the spokesperson.
Related: VW owners demand - Buy back our cars!
VW did not have an immediate comment on the fixes it will propose.
There will probably be different fixes for different model years. Michael Horn, the head of VW's U.S. operations, testified before Congress that it will be tougher to fix the older cars.
Many VW owners are angry at the automaker and want the manufacturer to buy back their cars. But Horn said VW is committed to fixing the problem rather than repurchasing cars.