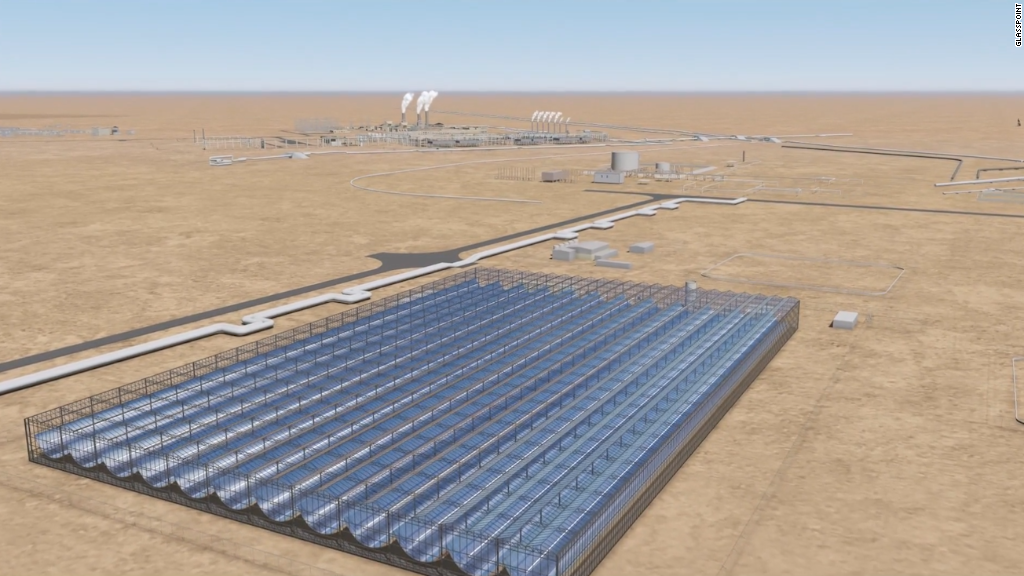 A Silicon Valley company recently broke ground on one of the largest solar projects in history.
No, it's not using solar panels to power mansions in Palo Alto. It's using clean energy to pump oil ... in the Middle East, no less, the epicenter of the world's oil resources.
GlassPoint Solar is building sophisticated mirrors in a desert in Oman to transform solar energy into steam, used in a popular kind of oil extraction.
Normally, natural gas is used in this type of oil recovery. But natural gas is quite scarce and awfully expensive in many parts of the Middle East. It's also not good for the environment.
Even though GlassPoint's solar project will only provide one-third of the steam at Oman's Amal oilfield, the company estimates it will save 300,000 tons of CO2 emissions each year. That's the equivalent of removing 63,000 cars from the road.
To put it another way, it's more carbon savings than all the electric cars sold by the likes of Tesla (TSLA) and Toyota (TM) combined in the U.S. today.
"It's very energy intensive to produce energy. Unlike gas-fired units, GlassPoint's solar steam generators produce zero emissions," GlassPoint co-founder and CEO Rod MacGregor told CNNMoney.
Related: Iraq is flooding America with lots of oil
Big oil backers behind solar company
GlassPoint broke ground earlier this month on the Oman solar project, which has been dubbed "Miraah," Arabic for mirror.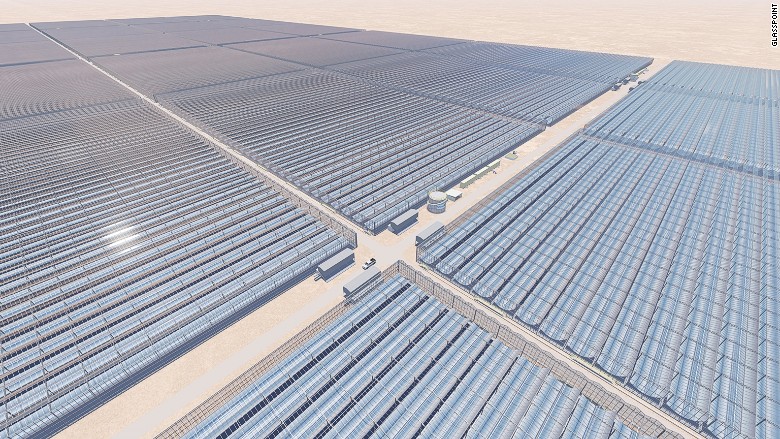 The California based GlassPoint is backed by some big names in oil, including Royal Dutch Shell (RDSA) and SGRF, Oman's sovereign wealth fund. Kuwait's state oil company and French oil giant Total (TOT) also own indirect stakes through venture-capital firms.
GlassPoint is already creating solar power for an oil project in California.
Not your father's solar company
The timing of the new solar project in Oman is interesting because some traditional solar companies are struggling now. Shares of SolarCity (SCTY), which is majority owned by Elon Musk, plummeted last month after reporting big losses and slashing its growth forecast. Even hedge fund manager Jim Chanos is betting against SolarCity.
But unlike traditional solar companies that focus on solar panels, GlassPoint deploys mirrors that are specifically designed for oil operations.
It's similar to using a magnifying glass on a sunny day to burn a hole in a leaf. Except instead of a magnifying glass, it's a series of delicate mirrors that are housed in agricultural greenhouses to protect them from sandstorms and dust.
"We're the only company doing this at this kind of scale. We were able to hit a price point no one else could," MacGregor said.
Related: Elon Musk lost $165 million as SolarCity crumbled
Can oil companies even afford GlassPoint?
Still, oil companies are apprehensive about spending much on anything these days -- let alone on solar projects. The oil price crash has caused the industry to slash capital expenditures, curtail exploration and cut tens of thousands of workers.
But GlassPoint estimates that fuel purchases make up 60% of the operating expenses at heavy oil fields. That means a cheaper alternative like solar would sound quite appealing to oil execs.
"When oil prices are down, oil companies are very interested in anything that can reduce their operating costs. If you can do that, you're their new best friend," MacGregor said.