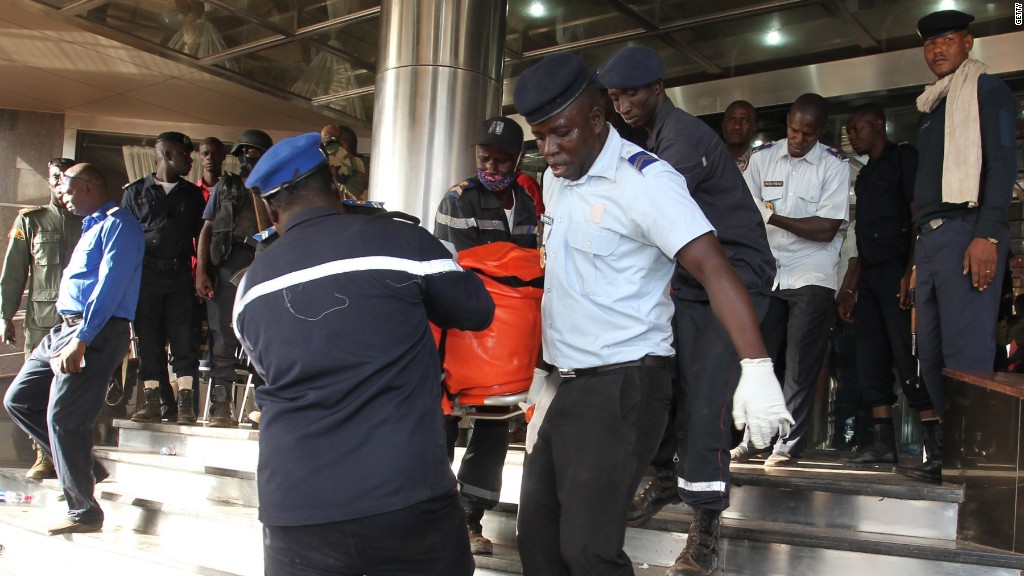 The Radisson Blu hotel in Bamako, Mali, where gunmen took dozens of hostages in an attack that left 21 people dead on Friday, is run by a big, global company with more than 1,300 hotels around the world.
The Carlson Rezidor Hotel Group, which has corporate headquarters in Minneapolis and Belgium, describes its Bamako location as an "elegant hotel in Mali's fastest growing city." The hotel has 190 rooms and suites.
The siege of the hotel began around 7 am local time. Carlson Rezidor said early Friday that it was aware of the situation and that two people were holding 140 guests and 30 employees hostage.
"Our safety & security teams and our corporate team are in constant contact with the local authorities in order to offer any support possible to re-instate safety and security at the hotel," the company said.
Later, the CEO of Carlson Rezidor, Wolfgang Neumann, released a video statement to "express my deep sympathy and personal concern." The company set up a telephone hotline to provide information.
Many hostages were freed and the siege was put down after Malian security forces stormed the hotel.
Mali is a former French colony in west Africa with a population of roughly 15 million. Its capital is Bamako.
Mali gained independence in 1960, but maintains close ties to France, which is still reeling from last week's terror attacks in Paris.
In 2013, France used military force in Mali to repel armed Islamists who were advancing on the middle of the country from their stronghold in the north.
The small land-locked country, which is roughly twice the size of Texas, is among the poorest nations in the world.
The Mali population is considered very young; nearly 50% of people are under the age of 14. Life expectancy is 55 years.
The country's economy is based heavily on gold mining and agricultural exports.
Carlson Rezidor has more than 1,300 hotels in operation or under development around the world, and has sales of $7 billion.
In addition to the Radison Blu in Mali, Carlson Rezidor has properties in other African countries, such as Algeria and Senegal.
Carlson Rezidor launched the Radisson Blu brand in 2009. It was previously called Radisson SAS.