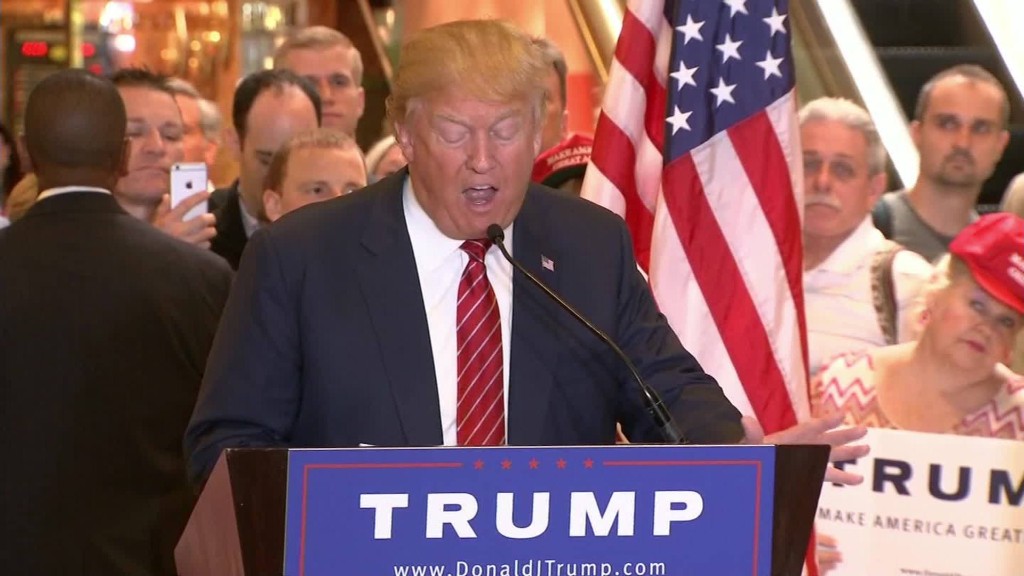 The saga of Donald Trump and the Wall Street Journal continues.
Members of the Journal's editorial board sat down with Trump this week for what it called a previously scheduled meeting.
The meeting came days after Trump, as the Journal put it, "went bananas" over an editorial mocking the candidate's views on trade. Trump went on a day-long Twitter spree, calling the Wall Street Journal editorial writers "dummies" and demanding an apology.
Trump hasn't gotten his apology. But he did get a 2,500-word recounting of the 98-minute meeting published in Saturday's newspaper.
Joseph Rago, an editorial board member, said he and his colleagues got "the full Donald J. Trump experience. ... He didn't call anyone a moron or a pathetic loser, at least anyone present in the room."
Trump's discussions of policy, Rago wrote, are at "such a high altitude" that details on how he would implement his proposals "are often thin to nonexistent."
The op/ed, headlined "The Presidency as the Art of the Deal," quotes Trump at length and continues the Journal's sarcastic critique of his candidacy.
On detailing his policies: Rago wrote that Trump said only journalists want "a 14-point thing on something, on anything, right, you know, policy. ... I always find the people don't want it."
On trade and China: "I totally, I totally, like free trade," Rago quoted Trump saying, before accusing Trump of espousing anti-trade policies.
To which, Trump said, "I don't want to put the tax on. But I say this, if you ever threatened China with a tax, a tariff ... they would come to the tables, if they believe you. Now if some idiot that's running for office that never did anything said that, they wouldn't have any fear."
On his economic advisers: "Honestly, I feel that I have such a vast feeling for it that I really -- you know, Milton Friedman was good -- but I don't really listen to anybody," Trump said. "I just put it in and I have a feeling for, it's almost common sense, it's a business instinct."
In the end, Rago sardonically conceded that perhaps Trump did have a shot at the country's highest office.
"It's politics, not business, but you never know," he wrote. "Maybe it's time to start imagining Mr. Trump, come January 2017, in possession of the nuclear launch codes."
Trump has yet to respond to the article on Twitter.