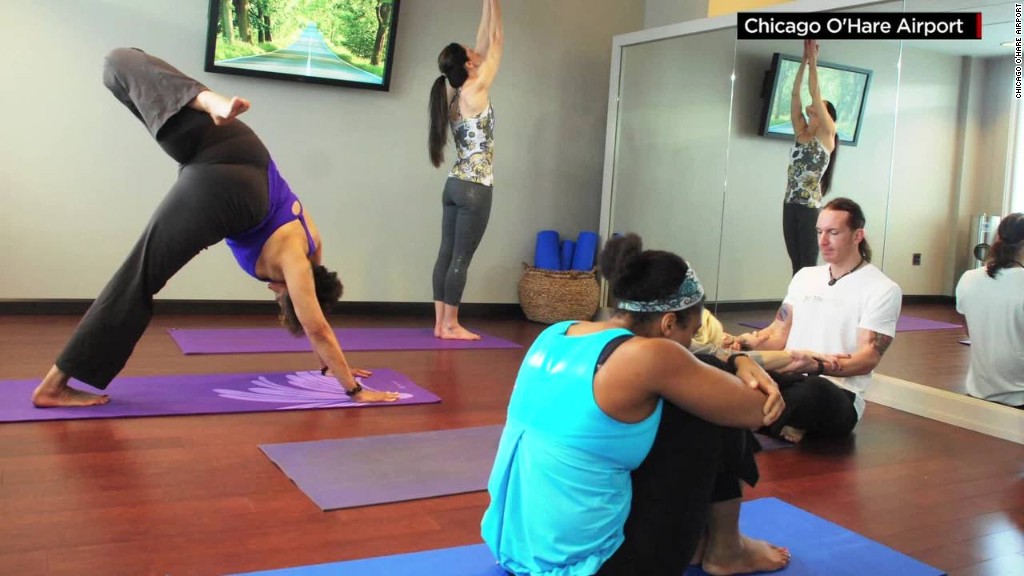 Namaste! Shares of yoga apparel retailer lululemon are up more than 15% in past few days.
Is lululemon (LULU) finally making a real comeback from the sheer black pants debacle in 2013? Or is takeover talk lifting the stock again? Probably the latter.
The yoga pants fiasco led to the departure of several executives.
Lululemon founder Chip Wilson made matters worse by saying in a TV interview that "some women's bodies just actually don't work" for the company's clothes. He resigned from the company's board earlier this year.
Things have improved somewhat for lululemon since then. The company just opened its biggest store ever last week, an 11,500 square foot location in New York's Flatiron District.
Lululemon will announce its latest results in early December. Analysts are expecting a healthy sales increase of 15%. But profits are expected to fall.
Related: Lululemon recalls women's tops -- but not because they're see-through
So it doesn't appear as if the stock is rallying due to hopes that the company has finally gotten itself out of its downward dog position. (Sorry.)
Even with the recent rally, lululemon shares are still nearly 30% below their 52-week high and 40% from their 2013 peak.
Instead, the recent surge seems to be fueled by a return of takeover chatter.
There has been speculation that lululemon could be on the shopping block ever since its translucent pants made it the butt (sorry again) of jokes.
Nike (NKE) and Under Armour (UA) have been mentioned most often as likely suitors. Lo and behold, they are being named again.
Last week, two columnists for Bloomberg Gadfly wrote that Nike should have bought lululemon to increase its market share in women's athletic apparel instead of raising its dividend and repurchasing more stock.
And on Sunday, The New York Post reported that there have been more rumors about Under Armour working on a lululemon deal.
Both Nike and Under Armour have stepped up their game with women's clothing in the past few years.
Related: Lululemon's 'smash' new hit: Pants for men
But that's exactly why several analysts think that it wouldn't make sense for either of them to want to buy lululemon.
"Nike and Under Armour have shown an ability to build a women's business in-house," said Bridget Weishaar, an analyst with Morningstar.
She adds that lululemon stock still looks expensive -- at more than 20 times earnings estimates -- even after its big drop. She doubts either Nike or Under Armour would want to pay that much for the company.
Susan Anderson, an analyst with FBR, was also skeptical. Lululemon now trades for more than $50 a share. She said a takeover only makes financial sense at a price of around $30.
Anderson agreed that there's little for Nike or Under Armour to gain from owning lululemon.
"Under Armour wants to grow its own brand. I don't think they want another brand. And Nike's women's business is on fire right now," she said.
Anderson didn't rule out an eventual takeover of lululemon though. She said that VF Corp (VFC). -- the owner of the North Face, Timberland, Vans and Lee brands -- could be interested.
VF Corp. has also been mentioned occasionally as a possible acquirer of lululemon. The company has its own brand of women's active wear named lucy. (Another brand staring with a lowercase l!) But lucy is nowhere near as big as lululemon.
Spokespeople for lululemon, Nike and Under Armour were not immediately available for comment. A spokesman for VF Corp. said the company does not comment on rumors and speculation.