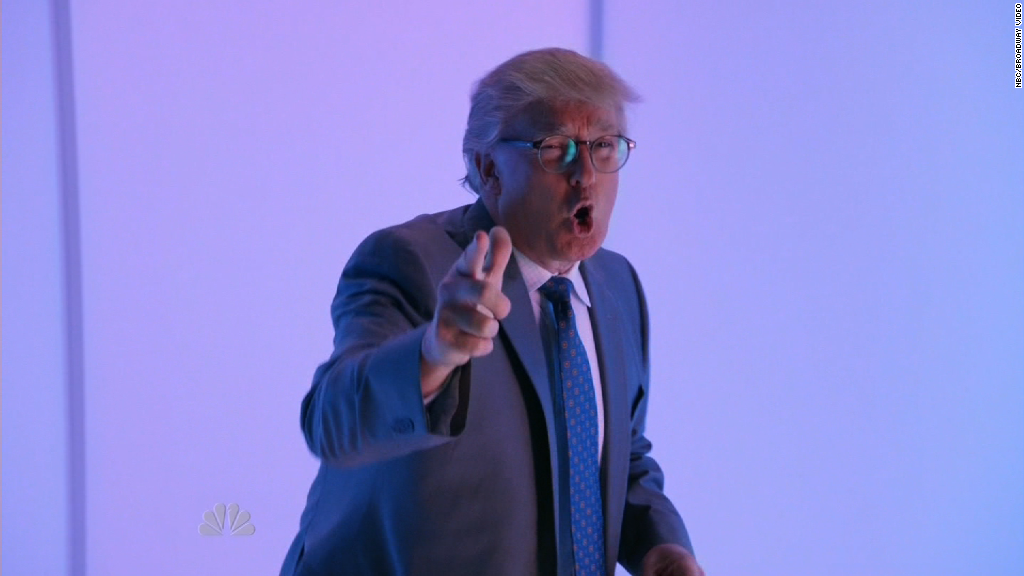 NBC is facing pressure from Hispanic lawmakers to apologize for allowing Donald Trump to host "Saturday Night Live," but the network appears unwilling to apologize for a problem that "SNL" producer Lorne Michaels created, CNNMoney has learned.
Michaels, one of the most powerful figures within NBCUniversal, decided to extend the invitation to Trump despite the fact that NBC had cut ties with him months earlier over remarks he made about Mexican immigrants.
That has complicated matters for NBC executives who are being called upon to apologize for a decision they did not make.
Members of the Congressional Hispanic Caucus met with NBCUniversal executives last Wednesday and voiced their frustrations with Trump's appearance on the show. They noted that his remarks about Mexican immigrants -- he has called them criminals, drug dealers and "rapists" -- were derogatory and offensive. The lawmakers have also struggled to comprehend how NBC could host Trump when the network had severed their Miss USA and Miss Universe joint venture with him in the summer.
Related: Trump's GOP rivals get 'equal time' on NBC
"The biggest issue for me is whether NBC Universal Comcast or NBC Entertainment Division plan on saying anything by way of an apology or simply an acknowledgment that putting someone on the air as host of a marquee NBC program who said Mexicans are rapists and drug-dealers was a mistake," Rep. Luis Gutiérrez, a Democrat from Illinois, said during the meeting.
But the executives at the meeting, who represented only NBC News and NBCUniversal, told the Hispanic lawmakers that the decision had been made by NBC Entertainment, and that they were therefore unable to address the matter.
"They passed the buck and said they couldn't address it because it was entertainment, not news," one source with direct knowledge of the meeting said.
The lawmakers now fear that NBC Entertainment won't engage. They have even less faith that Michaels will respond, let alone apologize.
Related: Where's Larry David? There's $5,000 waiting for him
Rebecca Marks, a "Saturday Night Live" spokesperson and the executive vice president for NBCUniversal Television Group Publicity, did not respond to a request for comment.
For Michaels, the decision to have Trump host "SNL" was a no-brainer. Trump delivered 9.3 million viewers to the show, it's largest audience in years.
But that turnout has only rubbed salt in the wounds of the Hispanic lawmakers.
In Wednesday's meeting, Rep. Gutiérrez told the NBCUniversal and NBC News executives that "members of the Congressional Hispanic Caucus and other members of Congress and Senators will find it hard to take anything you say about diversity and Hispanic representation seriously until this is addressed."
Sign up for the Reliable Sources newsletter — delivering the most important stories in the media world to your inbox every day.