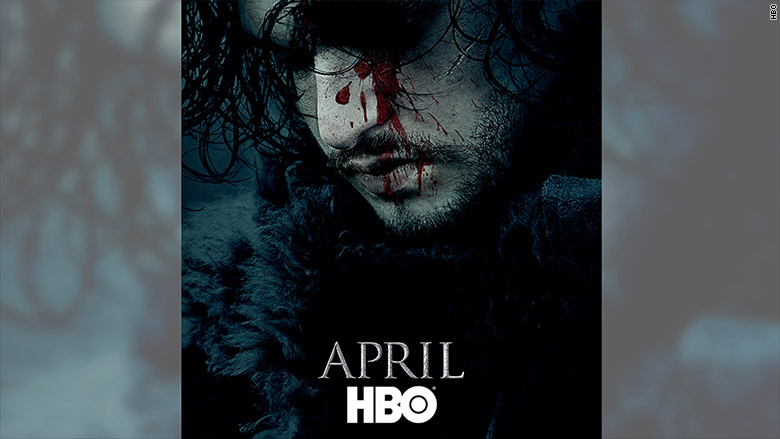 Jon Snow lives... maybe.
HBO released the first promo art for the upcoming sixth season of "Game of Thrones" on Monday, causing fans to buzz because it features Jon Snow.
The teaser poster shows Snow, played by Kit Harington, looking down, eyes closed, with blood streaking down his face along with the words "April" and "HBO" below him. The show returns in April.
For many fans, the image is confirmation that the Lord Commander of the Night's Watch is alive although maybe not well.
The drama series, which broadcasts on CNN's corporate sister channel HBO, ended its season five finale with Snow lying in his own blood after being stabbed apparently to death by his own men.
Many fans refused to believe that Snow was actually dead and would eventually be brought back to life the following season.
This is a point that Harington and those on the show have refuted, even to President Obama.
News outlets have attempted to capture any photos of Harington on set and fans have come up with wild theories that would bring Snow back.
"'Dead is dead.' Or not," tweeted Debra Birnbaum, the executive TV editor for Variety.
The tweet including the promo art of Snow has been retweeted over 30,000 times since Monday morning.
HBO's "Game of Thrones," which won the Emmy for Outstanding Drama Series at this year's Primetime Emmys, will return in April.
Sign up for the Reliable Sources newsletter — delivering the most important stories in the media world to your inbox every day.