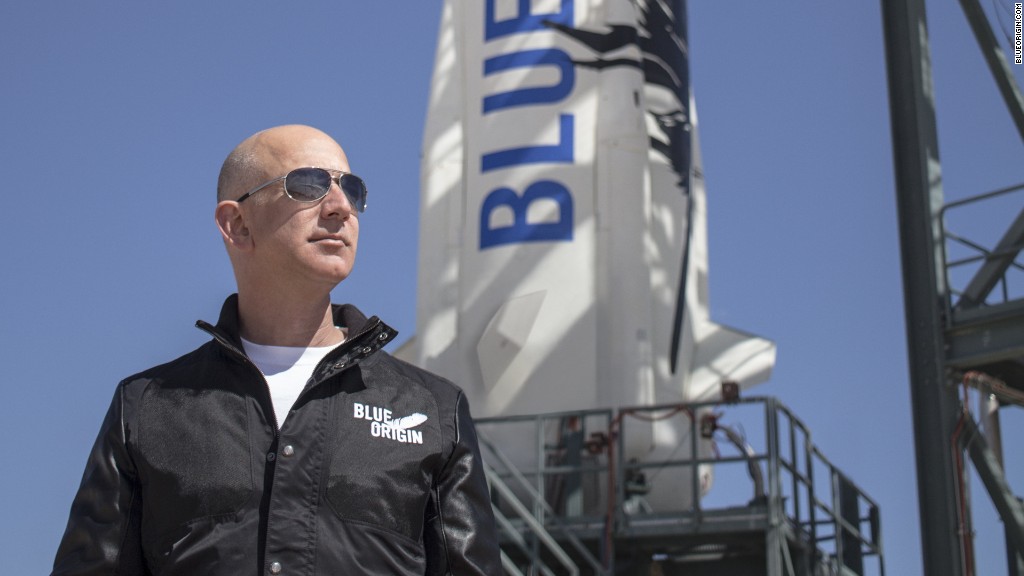 Jeff Bezos' rocket ship achieved a breakthrough Monday by traveling 329,839 feet into outer space and then landing upright upon its return to Earth.
In the past, rockets were disposed of after launching space craft into outer space. Reusable rockets would substantially reduce the cost of space flight.
Amazon (AMZN) founder Bezos started his space company, Blue Origin, in the hopes of using his New Shepard rocket to carry tourists into space.
"Now safely tucked away at our launch site in West Texas is the rarest of beasts -- a used rocket," Bezos said. "Full reuse is a game changer, and we can't wait to fuel up and fly again."
Bezos, in an interview with CNN, said current space flight is inefficient -- as if airlines discarded 747 jets after each cross-country flight.
"You can imagine how expensive your ticket would be," he said.
Rival rocket business SpaceX, which was started by Tesla Motors (TSLA) CEO Elon Musk, has been trying to land rockets upright as well.
Some SpaceX rockets have landed upright in test flights that never left the atmosphere. But SpaceX's attempts to travel to outer space and return to upright landings have so far been unsuccessful. The rockets have toppled over while attempting to land on a platform in the ocean.
Blue Origin and SpaceX are two of the main players in the new business of private space launches. Another is Richard Branson's Virgin Galactic, which hopes to carry passengers to space in a vehicle launched from an airplane and that lands like a plane on a runway.
Bezos said he doesn't consider those companies Blue Origin competitors.
"I think of our competition primarily as Earth's gravity," he said. "Space is a big place. There's room for all of us."
The aim eventually is to carry astronauts, including tourists, into space -- something NASA no longer does with its own rockets.
Blue Origin is taking names of people interested in hopping aboard a future flight. But it has yet to announce how much it will cost or how many people have signed up.
SpaceX and Boeing (BA) have won contracts from NASA to carry astronauts to the International Space Station. SpaceX is already carrying supplies to ISS.
Related: Amazon CE Jeff Bezos moves up to world's fourth richest man
Musk tweeted congratulations to Bezos and Blue Origin early Tuesday. But he also took a dig at Blue Origin. Musk noted that rockets that reach the space station have to go 10 times as fast, and use 100 times the energy, of suborbital rockets that reach the edge of space as Blue Origin did.
"It is ... important to clear up the difference between 'space' and 'orbit,'" he tweeted.
But Bezos said the part of the rocket that Musk is attempting to land is pretty much the same kind of spacecraft as Blue Origin's.
"What SpaceX is trying to do is very similar," he said.
Musk also responded to Bezos' tweet by claiming that an earlier SpaceX rocket had completed six "suborbital" flights and successfully landed. But none of those flights got close to outer space. The longest of them only went 744 meters high. That's less than 1% of the altitude that Blue Origin's flight reached on Monday.
All three companies have had setbacks in their efforts to carry people into space.
A Virgin Galactic spaceship crashed during a test flight in October 2014, killing one of the two pilots. An unmanned SpaceX supply flight to ISS exploded soon after launch in June. And New Shepard had its first successful launch into space in April, but the rocket was not recovered because of a problem with the hydraulic system.
Bezos said this time his rocket performed exactly as planned, traveling into the edge of outer space before returning.
The rocket's engines reignited at 5,000 feet above ground to slow descent, and it was traveling at only 4.4 mph during its final 100 feet. It landed only 4-1/2 feet off the dead center of the the landing pad.
The space capsule on the top of the rocket that will someday carry space tourists separated from the rocket once it reached space and returned to Earth via parachute.
The New Shepard is named after Alan Shepard, the first American to go to outer space.
Bezos said he has wanted to travel into space himself since, as a five-year-old, he watched Neil Armstrong walk on the moon in 1969. Like Branson and Musk, Bezos said he plans to take one of his own rockets into space as soon as possible.