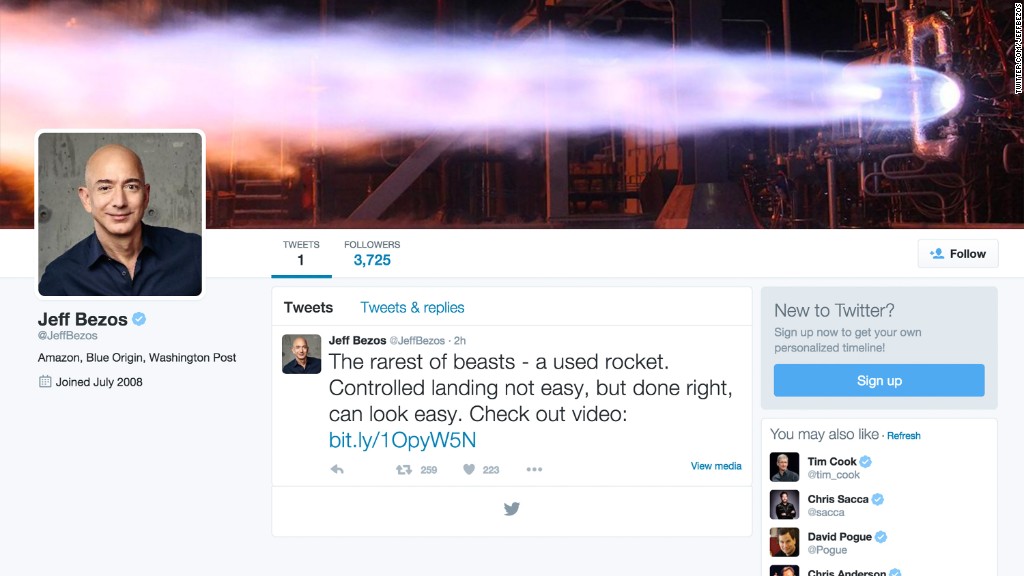 Amazon CEO Jeff Bezos joined Twitter in July 2008.
But he waited more than seven years to finally write his first tweet.
On Tuesday morning, Bezos tweeted about the successful landing of a rocket from his space company Blue Origin.
He embedded a video of the launch in the tweet.
It's a bit amusing that Bezos hadn't tweeted before. After all, there are plenty of things he could tout about Amazon (AMZN). He also owns The Washington Post.
And he was an early investor in Twitter (TWTR) before it went public. He bought a stake in 2008.
Plenty of other tech and media CEOs use Twitter all the time, such as Tesla's (TSLA) Elon Musk -- who also owns Blue Origin competitor SpaceX -- T-Mobile (TMUS) CEO John Legere, Fox's (FOXA) Rupert Murdoch and, of course, Twitter (TWTR) CEO Jack Dorsey.
Musk even tweeted his best wishes to Bezos and Blue Origin on Tuesday morning.
But Bezos told CNN's Rachel Crane that he wanted to save his first tweet for the first reusable rocket.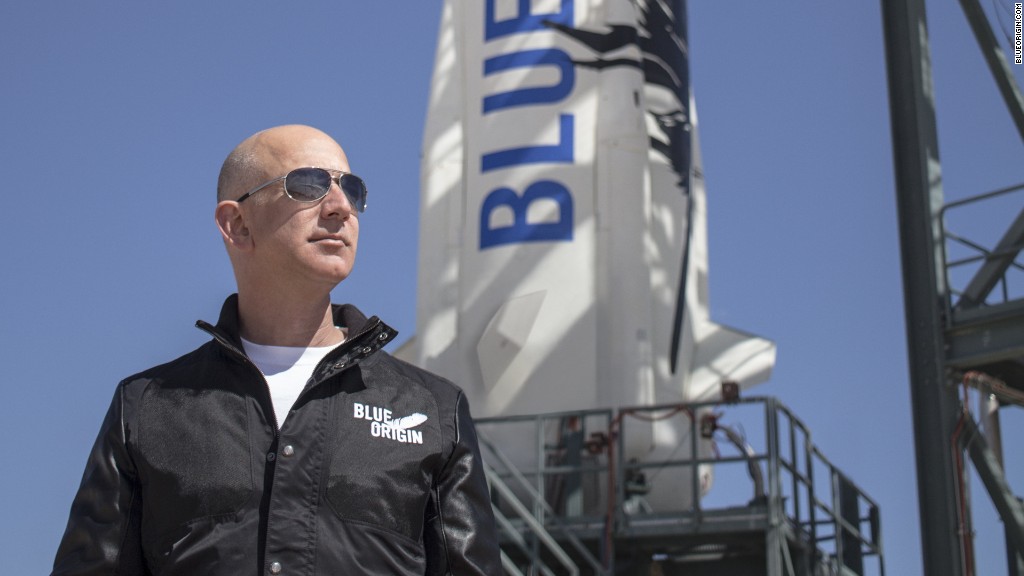 Bezos, who has a verified account but only about 25,000 followers as of Tuesday afternoon, isn't the only billionaire that's on Twitter in name only.
Oracle (ORCL) CEO Larry Ellison has only tweeted once. Back in 2012. Unsurprisingly, he tweeted some smack talk about enterprise software archrival SAP.
Former Microsoft (MSFT) CEO Steven Ballmer has only tweeted a dozen times -- including several tweets about how he's now a big investor in Twitter. #Meta
But Ballmer's last tweet was nearly a month ago -- in which he proudly proclaimed that the basketball team he owns -- the Los Angeles Clippers -- were 2-0.
The Clips have gone 4-7 since then though -- including two losses to the undefeated Golden State Warriors. Oops!
And then there's Berkshire Hathaway (BRKB) CEO Warren Buffett, who joined Twitter in April 2013 and has 1.1 million followers -- despite tweeting only seven times.
His last tweet was back in May -- which is practically the Mesozoic Period in the Twitterverse -- about his Wall Street Journal op-ed on the minimum wage and Earned Income Tax Credit.
But Buffett's best tweet came back in September 2013 -- just before the series finale of "Breaking Bad." It showed a picture of him with a Heisenberg hat and goatee. Is Warren the one who knocks?
So now that Bezos and Buffett are both on Twitter, one can only hope that the two engage in a nasty Twitter war!
Jeff can talk trash with Warren about how Amazon's market value could soon top Berkshire Hathaway's -- and that Bezos may become richer than Buffett too. (Bezos' net worth is $59.8 billion, according to Bloomberg. Buffett is worth $63.9 billion.)
Or Bezos could go at it with Ballmer -- who recently said that people don't like working at Amazon.
Then again, not everyone can be as snarky as Legere on Twitter, who routinely jabs a virtual finger in the eyes of his rivals AT&T (T), Verizon (VZ) and Sprint (S). Sprint CEO Marcelo Claure has occasionally engaged in Twitter feuds with Legere.
So will Bezos start tweeting frequently like Donald Trump, Carl Icahn, Bill Gates and other billionaires? That remains to be seen.
But even if Bezos never tweets again ... he at least has a Twitter account.
A couple of other billionaires that just so happen to run their own social media sites aren't on Twitter at all.
Alphabet's (GOOGL) (Is it me or is it still weird referring to Google as Alphabet? It's like Ron Artest and Metta World Peace) Larry Page is nowhere to be found despite the fact that his company has some partnerships with Twitter.
A funny Pending Larry account popped up in 2012 after Google accidentally released its earnings early with a pending quote from Page in the SEC filing. But the real Page still prefers to share his super-exciting thoughts on social media via Google+.
Fellow Google co-founder Sergey Brin also isn't on Twitter.
And Facebook's (FB) Mark Zuckerberg doesn't tweet either. Shocker.
CNNMoney's Chris Isidore contributed to this report.