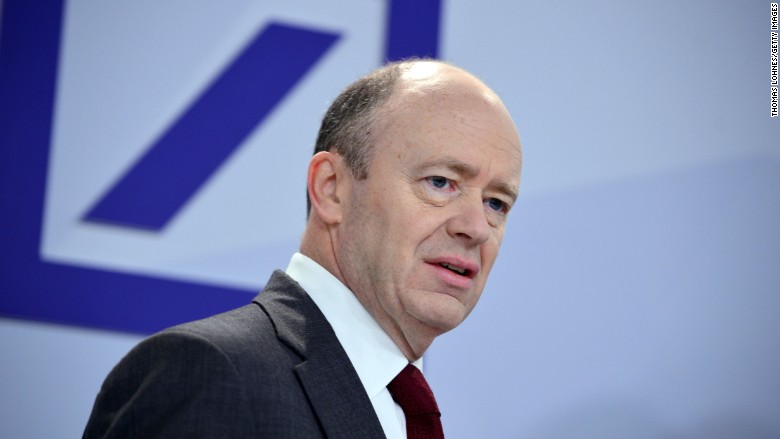 John Cryan was brought into Deutsche Bank to shake things up.
The new CEO appears to have ideas that could turn the banking industry on its head too. Cryan, one of two CEOs at Germany's biggest bank, said the prospect of making a bonus won't make him work any harder.
"I have no idea why I was offered a contract with a bonus in it because I promise you, I will not work any harder or any less in any year, in any day because someone is going to pay me more or less," Cryan said during a panel discussion in Germany this week.
His remarks were reported by Bloomberg and confirmed by a spokesman for Deutsche Bank (DB).
Cryan's pay has not yet been made public by the bank. His predecessors made 6.7 million euro ($7 million) each, including bonuses, according to the bank's most recent annual report.
Regulators and politicians have been cracking down on bankers' bonuses since the global financial crisis, which was blamed in part on the huge sums some bankers were able to earn through promoting risky products -- and in some cases illegally rigging markets to boost their profits.
Cryan said he sometimes wonders what drives people on trading floors.
"I don't fully empathize with anyone who says they turn up to work and work harder because they can be paid a little bit more," Cryan was quoted as saying.
Related: Austerity on Wall Street: Banker pay is down
Deutsche Bank announced it would shed 35,000 jobs in October as the bank took a massive 6 billion euro ($6.5 billion) loss in the third quarter.
Cryan was promoted to co-CEO in June when his predecessors resigned in the light of numerous scandals that hit the banking sector and crushed Deutsche's earnings.
He has previously called for banker pay to be tied to long term performance and the impact an employee's behavior has on the bank's reputation.