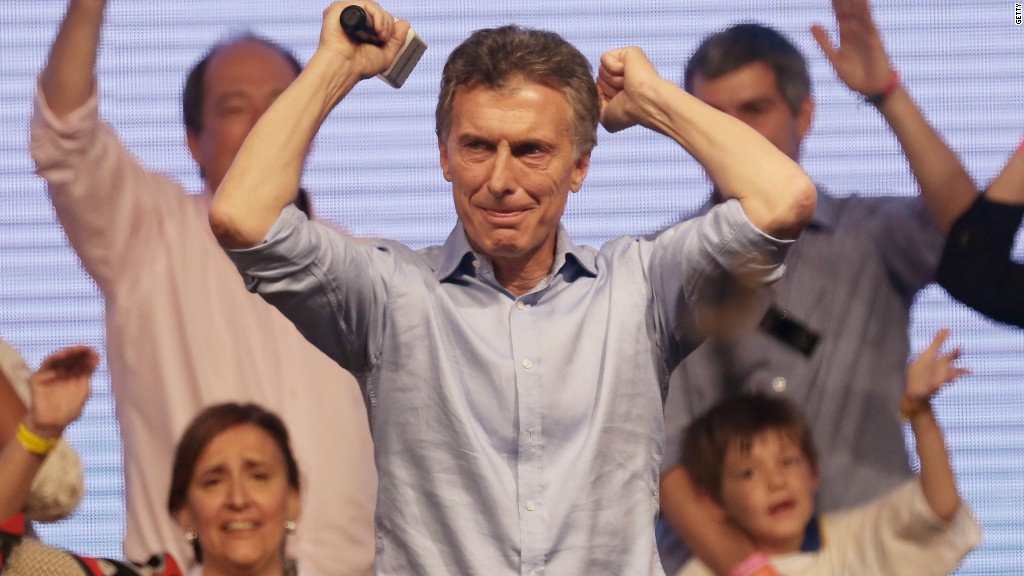 American Airlines won't accept Argentina's money.
The airline announced that it will no longer allow customers to pay for flights with Argentine pesos.
"We currently do not have inventory available for purchase in Argentine pesos due to repatriation issues," American Airlines said in a statement.
Translation: American Airlines faces problems converting its pesos to dollars.
American Airlines had already changed its policy once -- in September -- allowing Argentines who buy with pesos to fly within 90 days of the purchase.
Now, no flights can be purchased with pesos. American Airlines is still accepting purchases in Argentina with foreign credit cards.
"American Airlines' action is very strong," says Pablo Singerman, CEO of an economic think tank, Singerman y Makon, in Buenos Aires.
There's two issues for American Airlines (AAL) in Argentina.
First, Argentina's central bank recently reduced the amount of money foreign companies could bring back to the U.S. on a daily basis. The reduction comes amid growing concerns over the central bank's declining foreign reserves -- a warning sign of economic instability.
Second, major changes to Argentina's currency are coming.
Just last Sunday, Argentines elected Mauricio Macri as its new President. Macri has promised major economic reforms to turn around the country's stagnant economy.
Related: Latin America's worst year since the global recession
One of those reforms will be ending the government's currency controls set by the previous administration led by Cristina Fernandez de Kirchner. The controls put the peso on a mostly-fixed exchange rate.
Right now one dollar equals $9.67 Argentine pesos. But many people believe that the peso is overvalued, and most Argentines exchange money on a black market at an exchange rate of 15 pesos to the dollar.
Kirchner put the controls in place to fight Argentina's rising inflation, which has risen over 20% annually in recent years.
Ending the currency controls might lead to some volatility in the short term, but experts applaud the move and will likely lure back foreign investors.
"Macri is going to devalue the peso," says Singerman. Long-term for foreign companies: "It's a great time to invest in Argentina."
Related: America's 'smart money' is getting burned in Brazil
It won't be a surprise if undoing the currency control will immediately cause Argentina's currency to be significantly devalued.
With a devaluation likely coming, American Airlines may not want to accept a currency that many experts say is well overvalued.
The situation in Argentina is similar to what's already happening in Venezuela, where airlines have $3.7 billion held in the country because of currency controls, according to the International Air Transport Association. Venezuela has four official exchange rates and it also limits how much American companies can send back to the United States.
American Airlines is one of the biggest international airlines to fly to the Argentina. It has 27 weekly flights from various cities around the U.S. to Buenos Aires, the capital.
-CNN's Diego Laje contributed reporting from Buenos Aires