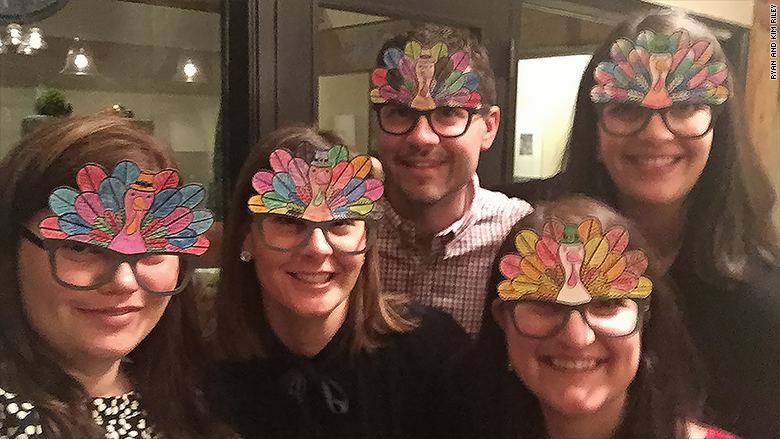 America has a new Thanksgiving trend: "Friendsgiving."
Millennials love turkey, stuffing and pie so much that they're often doing the whole meal multiple times -- once with mom and dad and a second (or even third) time with friends.
"It's essentially like having two Thanksgivings," says Kim Riley. She and her husband Ryan hosted 20 people and four kids on Saturday for Friendsgiving at their home near Harrisburg, Pa.
They made the turkey -- a 20-pounder -- and a 12-pound ham. Guests brought side dishes and dessert.
The Rileys started doing this seven years ago, before it was even called Friendsgiving. Everyone ate off paper plates. A lot of the food was store bought or a "novice effort."
Now just about everything is homemade. There's an friendly competition to bring the yummiest dish.
"It's become a tradition. Everyone brings the same thing every year, but they step up their game year by year," says Kim.
There have been a lot of upgrades over the years: tablecloths, decorations, eating off fine china. Ryan and Kim even went to a local restaurant supply store to buy "deluxe take home containers" so people would actually take the leftovers.
Related: 36 coolest gadgets of 2015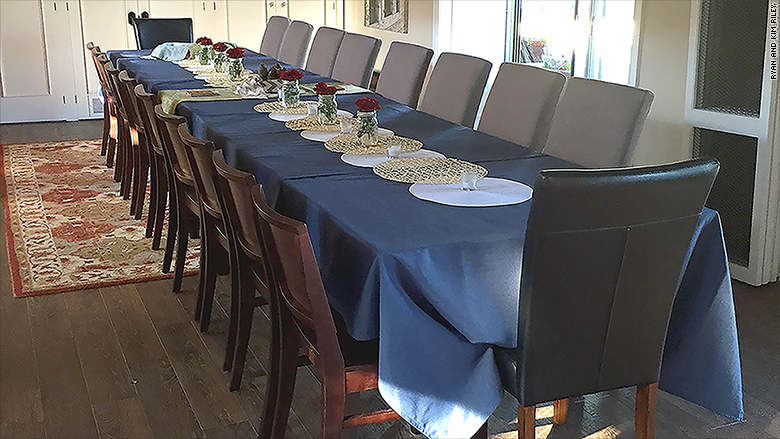 Grocery stores are catching on to 'Friendsgiving'
But the centerpiece of Friendsgiving is the people.
Ryan and Kim started this before they were married. There were a lot of singles living in their Harrisburg neighborhood. They wanted to celebrate with their "home away from home" family before many went their separate ways for the holiday.
Friendsgiving is also popular among young people who can't travel home for Turkey Day because of a lack of funds or their work schedules. Instead, they gather at a friend's place or college dorm.
The first mention of the term "Friendsgiving" on Urban Dictionary is from 2009. But it really exploded in popularity on social media last year. More than 75,000 Facebook (FB) events with the words "Friendsgiving" or "Friendgiving" have been created this month, a company spokesperson said.
Supermarkets are catching on. Thanksgiving has always been a "major boost" for sales says Phil Lampert, who runs the site SupermarketGuru.com.
"If they get you to shop there for Thanksgiving, most will continue to shop at the same store through Super Bowl," says Lampert.
Related: Toys 'R' Us, Amazon and Walmart race to start Cyber Monday
'Friendsgiving' mentions have doubled on Venmo
Some grocery chains like Peapod are doing marketing and social media promotions around #Friendsgiving and even putting up recipes on their blogs targeting Millennial celebrations with friends.
Need more evidence this is a growing trend? The mentions of "Friendsgiving" have doubled this year from last on Venmo, the app that many Millennials use to transfer money to each other to pay for parties and shared meals.
There was huge spike in Friendsgiving mentions on Venmo this past weekend as young people gathered to celebrate with each other before going home to see family.
Popular cities for Friendsgiving include New York, Los Angeles, Brooklyn, Philadelphia and San Francisco, according to Venmo data.
Tips for your own Friendsgiving
If you're going to host your own Friendsgiving, the Rileys have two tips: First, have it on a Saturday or Sunday. They made the early mistake of trying to cram it in on a weeknight after work. It's just too much.
Second, have a playroom for the kids.
The Rileys joke they were just thankful to have dinner with other adults now that they have a young child, even if it did involve a lot of prep work.