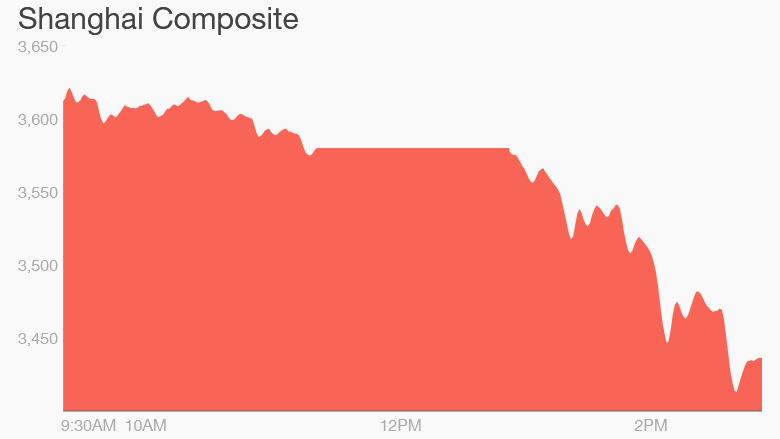 Markets in China tumbled on Friday as a government crackdown on the country's largest brokerages widened.
The Shanghai Composite plunged by 5.5%, the worst slide in months, while the main index in Shenzhen fell 6%. Stocks in Hong Kong slumped 2%.
Stocks slid after Citic Securities, China's largest brokerage, and Guosen Securities confirmed that they're being investigated by the China Securities Regulatory Commission, according to exchange filings. Shares of both brokerages sank 10%, the maximum daily limit in Shanghai and Shenzhen.
Other financial firms caught up in similar probes saw their stocks tumble: GF Securities was down 5.3%, and Haitong Securities lost 4% in Hong Kong. Both disclosed CSRC investigations late August, but didn't provide further details. Haitong's shares were halted Friday, and after the market close it announced a second CSRC investigation into the company.
This is the latest development in a government anti-corruption crackdown that has focused on the finance industry as authorities look to finger individuals for the wild market swings earlier this year. The probes recently netted a prominent hedge fund manager and top bank executives.
Even before Citic disclosed the investigation, the company was embroiled in scandal.
In September, it said three executives, including its president, were under investigation for "insider dealing and leaking inside information."
Related: Top China banker implicated in corruption probe
Chinese state media had been reporting that authorities were looking into the firm, saying four Citic executives had confessed to insider trading. Suspects are sometimes coerced or forced into signing confessions in China.
On Wednesday, the Securities Association of China -- an industry body that operates under government supervision -- said that Citic had overstated the value of some of its derivatives by more than 1 trillion yuan ($157 billion). The inaccuracies were contained in reports on trades carried out during the summer's stock market rout, state media said.
While the official probes snare ever more firms, few details are being released by the government or the companies. The firms generally seem to know little themselves, even as their executives mysteriously disappear.
Guotai Junan International, the Hong Kong-listed subsidiary of a major state-owned Chinese brokerage, said Monday it had been unable to reach its top executive, Yim Fung, since Nov. 18, and had no idea of his whereabouts.
Related: Giant Chinese brokerage can't find its CEO
Local media reports have suggested that Yim is being detained in connection with the investigation of a senior government official, who was previously an executive at Guotai Junan. Shares in the firm fell 7.8% on Friday.
Friday's fall came after Chinese stocks had returned to a bull market, and regulators lifted a ban on IPOs, after a summer market meltdown.
A Citic spokeswoman declined to give further details. Calls to the other companies seeking comment weren't immediately returned.