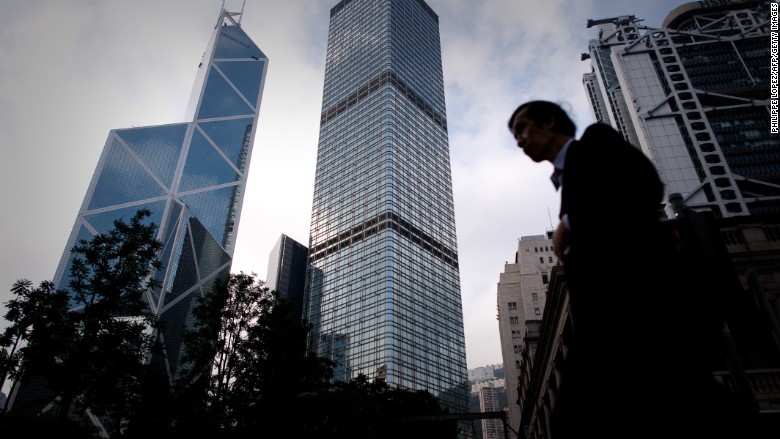 Top company executives in China keep vanishing, and some never return to their posts.
This week, it was the CEO of the Hong Kong arm of one of China's largest brokerages who disappeared; a few months ago, the president of a giant bank.
Once they go missing, there's no telling when they'll resurface. In some cases, they show up again -- perhaps months later, and offering little explanation.
In others, state media report that the executive has been caught up in a government investigation, into insider dealing or bribery, for example. Few details are ever revealed.
Some of these cases appear to be linked to a campaign against corruption launched by President Xi Jinping in 2013. But lately, more seem to be tied to investigations related to China's summer stock crash. Officials have been casting around for people to blame for the wild market swings.
Either way, the bizarre case of China's missing executives has observers puzzled. Here's a look at four recent examples of unexplained absences:
1. Guotai Junan International
The Hong Kong subsidiary of a major state-owned Chinese brokerage reported on Monday that its CEO, Yim Fung, was missing. Shares tumbled 12% after Guotai Junan International said that it had been unable to reach Yim since last week, and had no idea of his whereabouts.
Local media reports suggest that Yim is being detained in connection with the investigation of a senior government official -- Yao Gang, vice chairman of the China Securities Regulatory Commission, the country's stock market regulator. Yao was general manager at Guotai Junan from 1999 to 2002, according to the CSRC website.
Neither the company, nor the government, has said anything about why Yim has disappeared.
Related: Giant Chinese brokerage can't find its CEO
2. China Minsheng Bank
Early this year, a respected financial news magazine in China reported that Minsheng's president, Mao Xiaofeng, couldn't be reached after he was detained to help with an investigation. Then, in February, the bank announced in an exchange filing that he had resigned for "personal reasons."
Months later, there's still no clarity or confirmation on what exactly happened to Mao, and Minsheng's shares have plummeted 20% this year.
Several other financial executives have been caught up in these government probes. Chinese state media reported that Zhang Yun, president of Agricultural Bank of China, one of the world's largest banks, was detained to assist officials with an investigation.
Xu Xiang, a high profile fund manager with Shanghai-based Zexi Investment, has also been arrested and is being investigated for alleged insider trading, reported state media, citing the Ministry of Public Security.
Related: Top China banker implicated in corruption probe
3. China Aircraft
CEO Poon Ho Man resigned with immediate effect in a letter received June 17 by the company board, according to a description of the letter in a June 19 exchange filing. He had been on leave for a month, and gave no reasons for his decision to quit.
His resignation letter also made no reference to media reports linking him to a government investigation into China Southern Airlines, one of the company's customers. And China Aircraft seems to know very little.
"Except for news reported in the media, the Board does not have any information on the status of the alleged investigations, nor has the Board received any notice that Mr. Poon is under any kind of investigation," China Aircraft said in the filing.
The company also said it had been unable to contact Poon since receiving his resignation, and was "unable to verify the source of information of the news in the media." Its shares plunged 19% on June 19, and the stock has lost 26% so far this year.
4. Hanergy
Hanergy chairman Li Hejun, once China's richest man, failed to show up for the company's annual shareholder meeting in May. The meeting was just getting started as Hanergy shares began plunging, losing 47% in just one hour. That wiped $18.6 billion off the company's market value.
Trading was eventually suspended pending an announcement "containing inside information," but the company hasn't clarified much since, and dealing is still halted.
Plenty of analysts were already skeptical about Hanergy's astonishing rise -- the stock had soared 625% in 2015 before the crash. They were concerned about market manipulation and inflated profits, particularly after the company said 60% of sales came from its parent company.
A company spokesperson later said Li was attending the opening of Hanergy's clean energy exhibition in Beijing instead of addressing shareholders. In late May, the Hong Kong Securities and Futures Commission said in a statement it was conducting a formal investigation into Hanergy, but gave no details.
The statements only raised more questions, especially when it was revealed in exchange filings that Li himself had upped his bet that Hanergy shares would fall.
Things took an even stranger turn when, in a rare speech in September, Li denied shorting Hanergy stock himself, and instead blamed outside investors for malicious short selling, causing the company's spectacular fall.