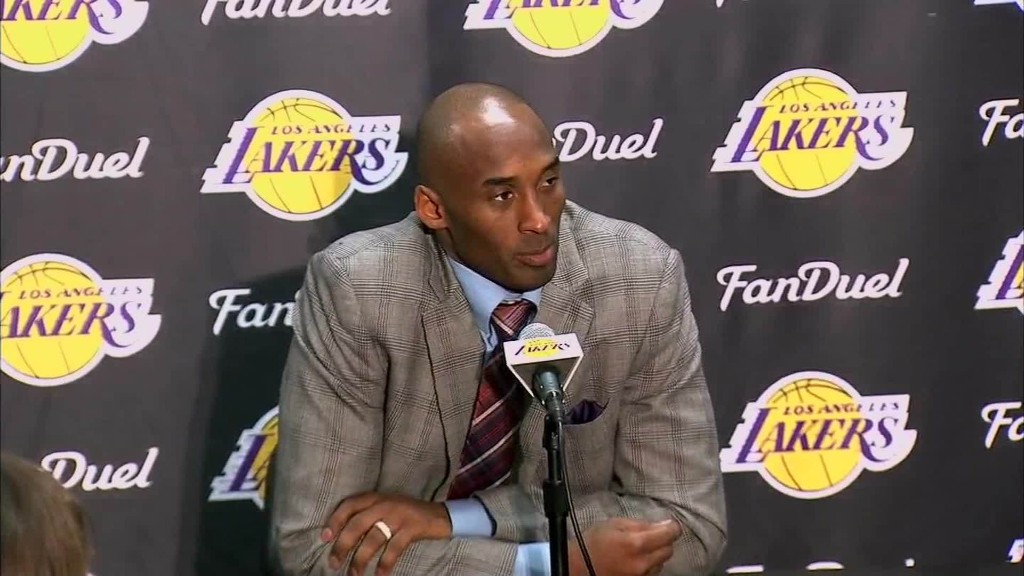 Kobe Bryant's announcement that he will retire at the end of the season probably didn't come as much surprise to basketball fans.
But Bryant's statement on Sunday night -- published in the form of a poem-- confirmed that The Players' Tribune has become the go-to media outlet for an athlete looking to make news.
The site, which was launched by former New York Yankees star Derek Jeter last year, provides a platform for athletes to go around sportswriters and publish their own first-person essays.
Bryant's poetry crashed the site Sunday night and was the latest in an impressive number of scoops racked up by the Players' Tribune in the year since it launched.
Tiger Woods wrote an essay last November lashing out at a Golf Digest columnist who had mocked him. NBA star Kevin Love announced on the site over the summer that he was re-signing with the Cleveland Cavaliers. And in an essay published on the Players' Tribune in September, New York Mets ace Matt Harvey quashed speculation that he would sit out the postseason to recover from Tommy John surgery.
The Players' Tribune has distribution partnerships with AOL, and it secured $9.5 million in its first round of venture capital funding earlier this year. According to Comscore, the site's monthly audience has grown to more than 1 million visitors since its "soft launch" in October 2014.
Related: This is what it'll cost to watch Kobe's last game
That's modest traffic, but the numbers belie the site's capacity for the viral moment, as demonstrated by the reactions to Bryant's prose and Love's announcment in July.
Each of those pieces contained on-the-record statements that any journalist would have loved to have reported, underscoring the mission of the Players Tribune.
Jeter, who also skipped the middle man when he announced his retirement on Facebook in early 2014, has described the site as a "trusted place" where athletes "can speak freely and not have to worry about how their words are twisted and turned."
Although Jeter said he isn't trying to "eliminate the media," his site has already provided competition for scoop-hungry sports reporters.
When Boston Red Sox slugger David Ortiz vehemently denied that he "knowingly" used steroids in an essay published by the Players' Tribune in March, the Boston Globe was blindsided.
The Globe had planned to publish similar comments from Ortiz in April, but the newspaper scrambled to run the piece shortly after the Players Tribune posted the essay.
Globe sports editor Joseph Sullivan told the New York Times that he had concerns that the newspaper would be scooped.
"I worried about ESPN or Yahoo or The Boston Herald somehow doing a similar story," Sullivan said. "But I didn't think about The Players' Tribune."
Sign up for the Reliable Sources newsletter — delivering the most important stories in the media world to your inbox every day.