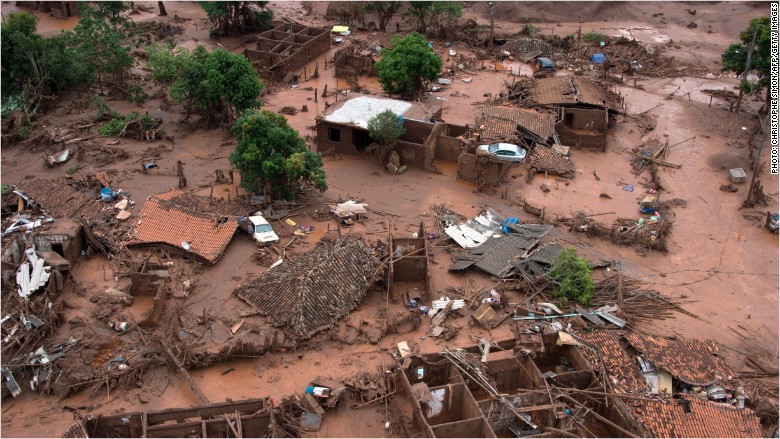 The world's biggest miner is being sued by Brazil over the collapse of a dam nearly a month ago.
Thirteen people died, and six people are still missing, after the dam collapsed on November 5, sending tons of iron ore mining debris through a region of southeast Brazil.
Shares in BHP Billiton (BBL) fell more than 4% Monday when it announced it and its partners in the mine expect to be fined 20 billion reals ($5.2 billion). Brazil's iron ore mining giant Vale (VALE) also owns part of the Samarco mine.
BHP Billiton said in a statement Monday that it expects to be fined for clean up costs and damages, adding it was committed "to supporting Samarco to rebuild the community and restore the environment affected by the breach."
Prosecutors are investigating whether the companies adequately monitored the dam ahead of the collapse. Authorities say numerous villages have been damaged and drinking water contaminated by tons of sludge.
BHP Billiton said mining is still suspended at Samarco and clean up work has begun. It said tests show the concentration of metals in water supplies is "not significantly" different from levels found as far back as 2010, though it is providing water to residents on request. It also said the debris was not hazardous to human health.
Last week, BHP Billiton and Vale announced a joint voluntary fund to help clean up the Rio Doce river system. They did not say how big the fund would be.
The disaster is the latest challenge for BHP Billiton, whose shares have more than halved this year on the back of weak commodity prices. They have fallen 27% since the dam collapsed.