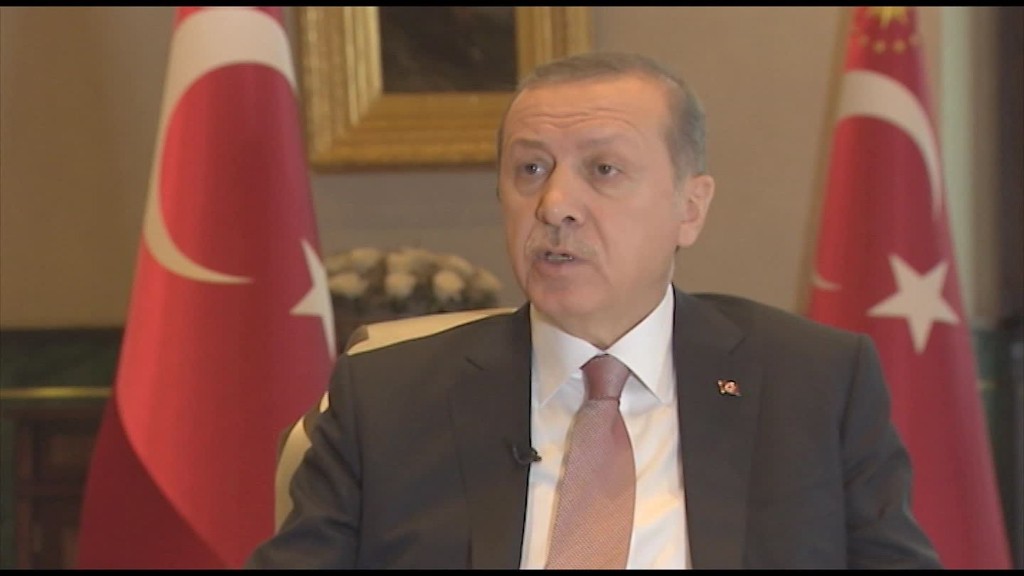 Russia has imposed economic sanctions on Turkey, even though it might hurt itself in the process.
Moscow has banned the import of some Turkish goods, imposed restrictions on travel, and plans to stop some Turkish companies doing business in Russia. The move comes after Turkey shot down a Russian warplane near the Turkish-Syrian border last Tuesday. Turkey has not apologized, saying it acted in self defense.
The Turkish economy will take a direct hit. Analysts estimate Moscow's sanctions could cut 0.5% off annual growth, which was already slowing sharply. The Turkish lira has lost nearly 20% of its value against the dollar this year.
The country's exporters boosted their shipments to Russia after Moscow banned food imports from the European Union, the U.S. and other Western countries last year, in retaliation for sanctions imposed on Russia over its involvement in the crisis in Ukraine.
Russia has not yet released a detailed list of embargoed Turkish imports, but the country's deputy prime minister Arkady Dvorkovich said Monday fruit and vegetables are likely to be targeted.
Turkish exporters will suffer, but the sanctions are likely to cut both ways.
"Turkey accounts for around a quarter of Russia's total food imports," said William Jackson, senior emerging market economist at Capital Economics. "Sourcing these from elsewhere will be more expensive."
Inflation in Russia has soared this year, piling on the pain for an economy deep in recession.
Related: Turkey's election rally could be short-lived
Moscow has also suspended visa-free travel for Turkish citizens, starting January 1, 2016, and effectively banned Turkish citizens from working in Russia. They'll now need special permission to work for Russian companies.
The main source of pain will be restrictions on tourism. Russia has barred its travel agencies from selling trips to Turkey and banned charter flights to and from the country.
Russian visitors are crucial for Turkey's tourism industry. Around 4.5 million Russians visited the country in 2014, and official Turkish data show that more than 12% of all visitors were Russian, making them the second biggest group after Germans.
"To take an extreme example, were no Russian tourists whatsoever to visit Turkey over the whole of 2016, the loss to Turkish tourism revenues might amount to $3 billion, or around 0.4% of GDP," Jackson said.
But the impact of Russian sanctions on Turkey will be partially offset by financial aid from the European Union. The EU agreed Sunday to pay Turkey 3 billion euros ($3.2 billion) to support the 2.2 million Syrian refugees there. In return, Turkey agreed to take action to limit the number of migrants coming to Europe.