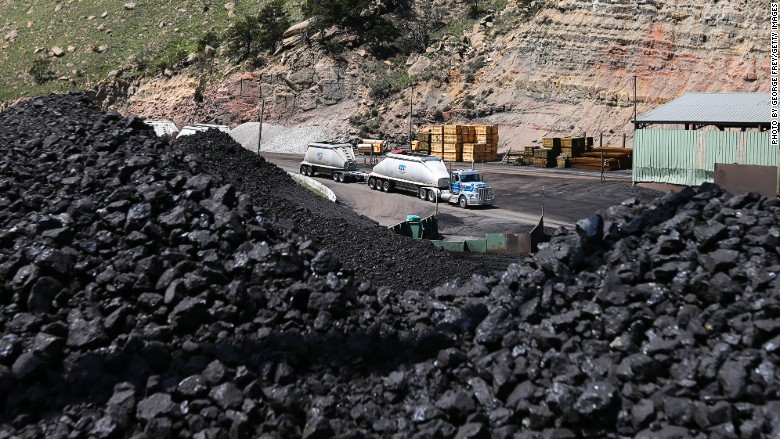 Coal is getting too dirty for Wall Street to touch.
After years of pressure from climate activists, a growing number of big banks are now pledging to cut financing to the increasingly-risky coal industry.
Morgan Stanley (MS) and Wells Fargo (WFC) became the latest to say the coal industry can no longer count on them to bankroll all of their activities. The announcements coincided with the start of the climate summit in Paris this week, where leaders from many nations are gathered to find ways to cut carbon emissions over the next decade.
Coal is central to that effort. Coal-fired power plants are a major source of greenhouse gas emissions. Environmentalists are vehemently opposed to mountaintop removal, a method of coal mining that disrupts the local ecosystem and threatens nearby communities.
Both Morgan Stanley and Wells Fargo on Monday said they will no longer finance mountaintop removal mining nor companies that heavily rely on the controversial tactic. They join Bank of America (BAC) and Citigroup (C), both of which made similar commitments to cut support for coal mining earlier this year.
Related: Coal companies scorched under Obama
Bankers change their tune on coal
Morgan Stanley went a step further, saying it will decline all financing deals that directly support new or expanded coal-fired power generation plants in the U.S. and other developed economies unless technology is in place to capture carbon emissions. Goldman Sachs has made a similar pledge.
"Climate change poses significant risks to the global economy," Morgan Stanley wrote in its updated coal policy.
Climate activists at the Rainforest Action Network have for years been pushing banks to cut coal loose.
"It's unethical to be banking an industry blowing up mountains in Appalachia to mine coal," said Ben Collins, senior research and policy campaigner at RAN.
Collins said there's been a "real shift" in banks' perception of the industry. "Now banks are acknowledging that coal is incompatible with stabilizing the climate," he said.
Related: Warming planet risks financial turmoil
Coal industry is risky for lenders anyway
It's worth remembering that coal isn't exactly a great business right now. Not only is coal a dirty word among environmentalists, its price has collapsed to multiple year lows and few expect demand for coal to rise in the future.
In other words, the writing is on the wall and the banks aren't solely being motivated by a desire to go green.
"The coal industry is in decline. That's what is driving this," said Tim Puls, an equity analyst at Morningstar who covers banks. Puls argues that if there was money to be made, "these banks would still be lending to the industry."
Coal companies have been slammed by low prices and tough federal regulations.
The Dow Jones U.S. Coal Index, which captures the stock prices of the largest coal companies, has lost a stunning 95% of its value since July 2011. A number of coal companies have filed for bankruptcy, including Alpha Natural Resources (ANRZQ), Walter Energy (WLTGQ), Patriot Coal and James River Coal (JRCCQ).
Banks acknowledge the economic forces at play. Wells Fargo told CNNMoney it "has been and will continue to limit and reduce" credit exposure to coal due to a number of issues, including "market factors."
Related: Bill Gates launches multi-billion dollar clean energy fund
Are banks going far enough?
Of course, Wall Street isn't completely stepping away from coal.
While many of the big banks have cut back on financing coal power plants in the U.S., they haven't ruled out those projects in developing economies. They point to the importance of affordable energy to alleviate poverty in those markets.
JPMorgan Chase (JPM) and Goldman Sachs (GS), two of the industry's biggest players, haven't gone as far as some of their rivals.
A Goldman spokesman told CNNMoney its renewable energy lending is now multiples higher than coal mining, which is relatively small.
A JPMorgan spokeswoman noted that the bank began cutting its exposure to mountaintop mining in 2013 and expects it to decline going forward.
Climate activists plan to keep pushing the banks to dump coal and hold to their promises.
"It's clear which banks are moving forward on coal and which banks are lagging. The policies and facts speak for themselves," said Collins from the Rainforest Action group.
Related: This solar company will power Middle East oil