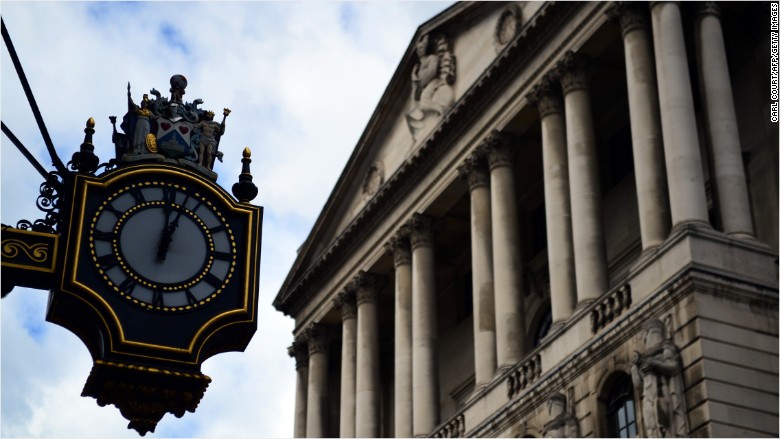 The Bank of England has revealed its doomsday scenario. And it turns out it's not that far from reality.
The central bank published Tuesday the results of its latest test of how the biggest U.K. banks would cope with a serious economic shock.
The bank said its scenario, designed in December 2014, "does not encapsulate a set of events that is likely to materialize," but some of its scariest points sound very real:
China slowdown
In the hypothetical scenario, the bank sees a huge slump in Chinese economic growth. "In China, policy is assumed to support a rebalancing of the economy towards consumption, but that takes time to take effect and annual growth slows to a low point of 1.7%," the bank said.
The slowdown in China is very real. China said its economy is growing at 6.9% and will grow by at least 6.5% in the next five years, but some analysts are cautious about its official numbers. The IMF predicts 6.3% growth in 2016 and The Conference Board 3.7%.
Related: Global growth is weakest since the crisis, IMF says
Deflation in Europe
The Bank of England is also looking at the risk of prolonged periods of deflation in the U.K. and the euro area. Its stress test scenario says: "Weaker domestic demand, world trade and commodity prices are assumed to lead to further disinflationary pressures."
Does that sound familiar? Europe slipped into deflation in September and prices were unchanged in October.
Oil at $38 per barrel
This part is very real. In fact, oil prices dropped below $40 per barrel last month, and are currently hovering around $41.
Strong dollar
The bank also tested the impact of a strong dollar on the British banks. It painted a picture where investors push up the value of the U.S. dollar against other currencies, as they flee more risky markets.
The dollar has been rallying thanks to the relatively good U.S. economy and signs that the Fed will finally raise interest rates. Many analysts expect one dollar to soon have the same value as one euro.
More banking fines
The bank also wants British lenders to be able to withstand huge penalties for potential misconduct, and its stress test scenario includes £40 billion ($60 billion) in fines in the next five years. In reality, the banks set aside around £42 billion ($63 billion) for fines in the past six years.