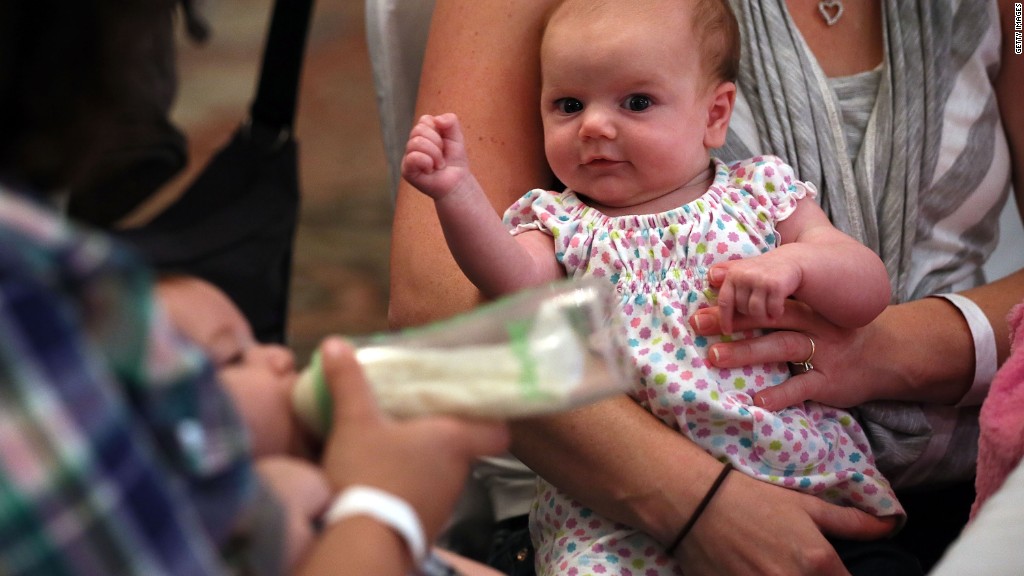 The routine of rushing back to work on Wall Street days after having a baby may be coming to an end soon.
From January 1, 2016, new parents at Credit Suisse (CSGKF) will be entitled to 20 weeks paid leave, up from 12 weeks at present. The improved terms include other new benefits such as paid nannies for those who have to travel for work. They'll apply to most of the bank's employees in the United States.
The package puts the Swiss bank ahead of most other Wall Street firms, where paid maternity and paternity breaks are notoriously short, or even non-existent.
Credit Suisse called the change "industry-leading." Goldman Sachs (GS) offers 16 weeks paid leave, Citibank 13 weeks, and Bank of America (BAC) up to 12 weeks.
"[It] is part of our broader program...designed to ensure maximum support to our working parents," said Marcy Frank, a spokeswoman for the bank.
The benefits are generous even by international standards. The International Labor Organization recommends companies offer 14 weeks paid parental leave.
Related: These companies have awesome benefits for parents
Credit Suisse said it had decided to change its policy after reviewing the experience of new parents at the bank.
And it joins a group of mostly tech companies that are offering more generous benefits for parents to compete for talented employees.
Microsoft (MSFT), Facebook (FB), Adobe (ADBE), Spotify, Zillow, Amazon (AMZN), and Accenture (ACN) all announced new leave policies in the last three months.
Some companies go even further, offering a lot more than just paid leave. Private equity firm KKR rolled out a new benefits program for new parents earlier this year. It now pays for employees to take their baby and a carer with them when they're traveling for work.
Facebook employees get a $4,000 bonus that the company provides as a "new child benefit," and IBM (IBM) pays for breast milk to be shipped home when working moms are on business trips.
Studies by the International Labor Organization and the Organisation for Economic Cooperation and Development show that generous parental leave policies are good for the economy as a whole, as well as companies. They spend less on recruitment and training, because new mothers and fathers are less likely to leave.
The U.S. is the only industrialized country in the world that does not guarantee paid parental leave.